Iyabo Ojo To Premiere 'Silence' In April, Releases First Trailer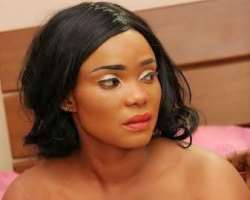 Superstar actress, Iyabo Ojo has released the trailer of her newest movie titled 'Silence'. Few weeks ago, a snippet of the flick was leaked to the public where she had a wedding with star actor, Joseph Benjamin, which created a buzz then.
Information now reaching us shows that the pretty actress will premiere the film in April before the cinema release, which will be later. The actress has now released the trailer of the blockbuster movie.
'Silence' centres around child abuse, consequences and how it can be overcome. The issue has been giving the government sleepless nights but the various governments are gradually winning the war against the menace.
The movie features a heap of Nollywood super stars from all strata, so fans have a reason to watch this life transforming movie.
'Silence' is written and produced by Iyabo Ojo, while Alex Mouth directed it. The flick stars Iyabo Ojo, Benjamin Joseph, Alex Osifo, Tina Mba, Faithia Balogun, Doris Simeon, Titi Osinowo and lots more.