Insecurity and new service chiefs – Punch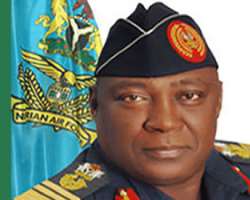 Seeking to turn the tables against the murderous insurgents in the North-East zone and curb the general insecurity in the country, President Goodluck Jonathan sacked the service chiefs in January. The President appointed three new helmsmen for the armed forces, namely Kenneth Minimah for the Army, Adesola Amosu for the Air Force and Usman Jibrin for the Navy, while promoting Alex Badeh, the immediate past Chief of Air Staff, as the new Chief of Defence Staff. Hinting at a new direction in the war to stamp out the Boko Haram offensive that started full-scale in 2009 and has led to the death of more than 5,000 people, Jonathan called for a 'greater synergy and inter-service cooperation' among the new military commanders.
Well said. But when security breaches that entail a massive loss of innocent lives and destruction occur regularly in a brazen manner despite a subsisting state of emergency imposed in May 2013 by the Federal Government, will a change of guards alone end the grip of the well-armed, rabid Islamists on the country? While the action might go some way in refocusing the war with the insurgents, it is obvious that conducting a successful campaign demands much more than just the swapping of positions.
As it is, we have passed this road before. On his return from the Earth Summit in Rio, Brazil on the heels of Boko Haram's simultaneous attacks on some parts of Kaduna and Yobe states, Jonathan had sacked Owoye Azazi, a retired Army general, as National Security Adviser and appointed Sambo Dasuki, a retired Army colonel, to replace him. The Minister of Defence, Haliru Mohammed, also lost his job. But has anything changed?
Rather, the insurgents have become more daring; though it must be said that the state of emergency has limited Boko Haram attacks to the North-East. Boko Haram terrorists have made startling statements with fresh attacks in Borno, Yobe and Adamawa states since late 2013. In early December, terrorists, numbering about 200, attacked the Composite Group, Nigerian Air Force Base and the Maiduguri International Airport, where they destroyed two NAF helicopters. The mass murderers also pulverised the newly-constructed trailer park on the Damaturu-Maiduguri Road, military check points, as well as residential and public buildings, killing scores in the process.
The insurgents continued their bloodletting early in the year, detonating bombs in Maiduguri, the Borno State capital, wreaking havoc on a local church in Adamawa, where they killed 22 people during a vigil, while other attacks left about 100 people dead. Several settlements became desolate after most of the property there had been burnt down. About 4,000 people were displaced.
Why then do terrorist attacks frequently succeed here? And how are other terror-prone countries, including Israel and Saudi Arabia, putting terrorists at bay? It is all about the state developing a zero-tolerance for terrorism. It is not just about guns and bullets, it is also about intelligence and education. Israel's most important tool for stopping terror plots, for instance, is aggressive surveillance and infiltration of suspected groups to find and stop the planners before they attack. In the Jewish State, avoiding suspicious packages that could be bombs is taught in school, surveillance techniques are aggressive, and ability to identify the profile of a typical bomber is routinely developed.
Saudi Arabia is taking the same path. In that country, instead of pretending by delinking terrorism from religion, the government decided to go after the men, money and mindset that support terrorism and extremism. This is reinforced by what the Saudi authorities describe as a 'war of ideas,' which aims to instil the concepts of moderation and tolerance, and to undermine any justifications for extremism and terrorism on an intellectual level. As a result of its uncompromising stance on terrorism, now, there are no major terrorist operatives or cells openly operating in Saudi Arabia. A September 2011 report by America's Carnegie Endowment for International Peace declared, 'There are not too many countries that have successfully dismantled and muzzled terrorism like Saudi Arabia has done.'
There must be a new thinking on how to take preventive action to forestall terrorist attacks as well as developing the capacity to respond effectively. The involvement of civil society in measures designed to improve its protection is also important. There can never be a single rational justification for terrorism. Unfortunately, the terror group is presented by its sympathisers as a form of militancy or criminality caused mainly by poverty. Boko Haram's sources of finance and its sponsors need to be investigated and suspects brought to justice.
Communities must be trained on how to report suspicious movement of people. This calls for patriotism, selflessness and dedication. Collaboration and sharing of intelligence will help them in the arduous task of crushing the murderous group.