Teachable Moment On How To Build Economy From Zero Point—Gov Obi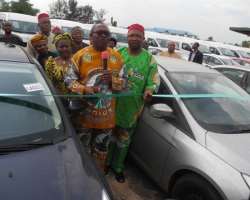 Governor Peter Obi has called for more proactive measures to save the country from the burden of mono economy. Governor Obi was speaking at the Government House, Awka when participants of Senior Course Thirty-Six, Armed Forces Command and Staff College Jaji paid a courtesy call to mark the commencement of their five day study tour.
This year's study tour with the theme, "Internal Revenue Generation as viable option for Economic Development" would take the participants to various parts of the State to research on critical areas. Governor Obi said time has come for Nigerians to look inwards to explore and harness available potential in various sectors to open up fresh frontiers of revenue generation that would consolidate the economy as well as provide the country with multi-sources of revenue.
He explained that his administration was working to improve the poor internal revenue profile of the State which he attributed to lack of confidence in governance by the people because of mal administrations of previous governments. The Governor commended the contributions of the Nigerian Armed Forces to nation building and global peace and stability.
The Team Leader, Air Commodore Jeff Zanni said the tour would afford the participants opportunity of having firsthand knowledge of social, cultural, economic and ecological problems of the State and enable them conduct on the spot study and research with a view of finding reasonable and workable solutions to identified problems.
In another development, Governor Peter Obi said Agriculture held the key to the fight against extreme poverty and hunger. He stated this when a team from the National Programme on Food Security paid him a courtesy call at the Government House, Awka.
Governor Obi said effective harnessing of agricultural potential in the country would ensure food security, provide employment opportunities and strengthen the economy. He assured that the State would soon pay its 2014 counter-part funding of programme and enjoined the Agency to continue to support states achieve their vision on agriculture.

The team leader and Chief Technical Adviser of the Agency, Dr. Oyesola Oyebanji said they were on comprehensive supervision mission to assess the progress of implementation and achievements that have been made. He thanked the Governor for the support given to the programme, noting that the State was leading in prompt payment of counter-part funding resulting to development of agriculture in all communities with necessary infrastructure and proper empowerment of farmers and increase in food production.