Enugu PDP rejects ex-Gov Nnamani's bid to return to party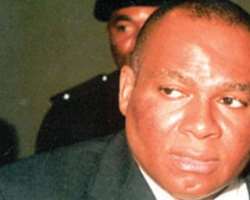 The Peoples Democratic Party (PDP) in Enugu state has said it will not accept  former governor of the state, Senator Chimaroke Nnamani , back to its fold   ahead of the 2015 general elections.
The state PDP Chairman, Vita Abba, in a statement on Wednesday  described the move by the former governor to return to the PDP as a dramatic move that would not be allowed to happen.
He described the former government as a 'political liability,' which must be avoided like a flu..
Senator Nnamani had in the wake of the 2011 election founded the People for Democratic Change (PDC) on which platform he not only made an unsuccessful bid to return to the senate but fielded governorship, national and state assembly candidates.
The people of the state heaved a sigh of relief when the former governor exhausted his tenure as governor, as they still remember his eight years rule as dark days in the state.
Nnnamani was tenure was hallmarked by unprecedented political terrorism and upsurge in crimes, such as ritual murder, armed robbery and fraud.
He is currently facing charges of embezzling billions of Enugu State funds in the law court.