In defence of the Naira – Thisday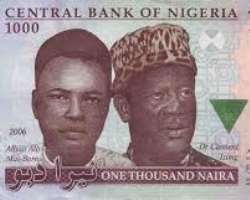 Naira, not dollar, is the unit of currency in Nigeria. It must have pride of place
Since December 16 last year, Nigerian applicants for the United Kingdom's visa have had to pay in United States Dollar (USD), following a new regime introduced by the British High Commission. But there has hardly been any protest to this decision because for a long time now, in major Nigerian cities like Abuja, Lagos, Port Harcourt and Warri, among others, the USD has become the preferred currency of transactions. Indeed, in many of these places, it is now fashionable for some business owners to publicly advertise that only the dollar would be accepted from those who transact business with them.
It is even more curious that the Central Bank of Nigeria (CBN) Governor, Mr Sanusi Lamido Sanusi, who in October last year spoke against the practice, has not come out to defend the national currency. While decrying the preference of dollar to Naira by recipients of Western Union money transfers, Sanusi said 'it is illegal for anybody to collect dollar for services rendered in Nigeria. Anybody that refuses to accept the Naira as a legal tender is committing an offence.' He added: 'Perhaps, what they might do is to index their service in dollar and use the exchange rate and accept Naira.'
Indeed, nothing can justify a situation where embassies, schools, supermarkets, hotels, airlines and other service providers, would demand and insist that Nigerian citizens should settle their bills or make purchases in foreign currencies to the detriment of the Naira that constitutionally remains the only legal tender in our country. But that is currently what obtains. While we have no problem with institutions who may demand a dollar equivalent of their fees, prescribing a policy against the Naira in our country is for us clearly unacceptable. It is noteworthy that Section 15 of the CBN Act 2007 states specifically that "the unit of currency in Nigeria shall be the Naira which shall be divided into one hundred kobo"; while Section 20 (1) of the same act says that "the currency notes issued by the Bank shall be legal tender in Nigeria at their face value for the payment of any amount". To give effect to these provisions, the act now prescribes in Section 20 (5) that "a person who refuses to accept the Naira as a means of payment is guilty of an offence and liable on conviction to a fine of N50,000 or six months imprisonment". This is the law that is being cynically violated in our country today. Yet, it was partly in response to this sort of situation that the Court of Appeal in Fawehinmi versus the President declared as illegal and unconstitutional the payment of dollarised salaries to two ministers of the President Olusegun Obasanjo administration in 2003.
While economists often argue that offering a set of alternative payment systems is not necessarily a bad idea, reducing the role of local currency as most companies in Nigeria are now doing can also have the unintended effect of what is described as the "flight from domestic money". In our country, this has already resulted in a situation in which corrupt politicians denominate their bribes in dollars and other foreign currencies with all the attendant implications on our dwindling foreign reserves. Besides, it is often the case that the greater the preference for payments in a powerful foreign currency, the weaker the local currency gets. This is usually the source of unintended devaluation and speculative inflation.
Even in tax free locations where currency regulations are allowed to be flexible, permitting parallel legal tender of local and major international currencies, conscious effort is made to protect the local currency while encouraging international trade and tourism. In Nigeria's case, the increased preference for dollar payments is the result of falling confidence in the domestic economy and currency on the part of the elite. It must be curbed.