Enugu State flags off N2.4bn centenary road project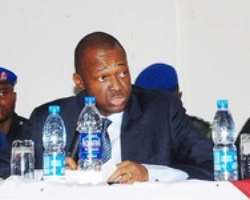 The Enugu State Government on Monday flagged off the reconstruction of the oldest major road in the Eastern Region, the Milken Hill Road.
The 11.7 km road, which was the first major road linking Enugu to Northern and Southern parts of the country, would be reconstructed at the cost of N2.4 billion.
Flagging off the road project in Enugu, the Commissioner for Works and Infrastructure, Mr Godwin Madueke, said the road would be completed before the end of the year.
He said the project, awarded to a Chinese firm, CGC Nigeria Ltd, was in line with the four-point agenda of the state government.
'This Milken Hill Road is as old as the coal city, which is 105 years now. So, we now rename the road as the centenary road to mark the 100 years of the city and the country,' he said.
The Project Manager of CGC Ltd, Mr Li Haifeng, assured that the project would be completed as scheduled.
'Our working equipment would soon be mobilised to site and we promised to live up to the agreement and specification as well as finish the work as and when due,' Haifeng said.
In his remarks, the Project Consultant, Mr Greg Nnaji, urged the construction company to handle the road with care.
According to him, the road is as historic as the state itself, since it is the only major road to the state during the civil war.
'We have to take care of the road in compliance to the Federal Government road standard.
'Always apply caution in your excavation, unused bomb may be discovered as the road was constructed before the civil war.'
The President General of Ngwo Community, Mr Japhet Okwor, thanked the state government for its development strides in the state.
'On behalf of the Igwe and Ngwo Community, we appreciate the effort of the government to give our road a new look.
'The community appreciates the governor, Mr Sullivan Chime, and the commissioner for making the community to enjoy the dividends of democracy in the state.'