Military kills 50 Boko Haram members at Christmas eve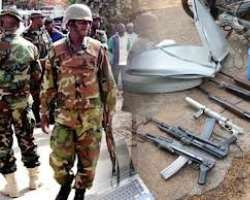 Provoked by a daring attack on its Bama barracks, the military launched a massive operation against the Boko Haram insurgents in the northeast state of Borno.
The operation  to track the  insurgents who carried out the last Friday pre-dawn attacks on Mohammed Kur Barracks, Bama, visited heavy casualties on the fleeing insurgents.
According to Major General Chris Olukolade ,director ,Defence Information, more than 50 insurgents died in the course of exchange of fire.
Over 20 vehicles conveying escaping terrorists were also destroyed.
Olukolade added that the vehicles were the ones used during the attack on the barracks and were sited through air surveillance as the terrorists were making efforts to cross the borders back to their haven in Cameroun.
A good number of the insurgents escaped with bullet wounds.
The military has lost 15 soldiers mostly from the attack while some died during the pursuit. A total of 5 civilians also died during the attack.
The military spokesman added that intensive cordon and search operations is still ongoing to fish out the insurgents who might be lurking around communities in the area.