Jonathan swears in four new permanent secs, civil service commission member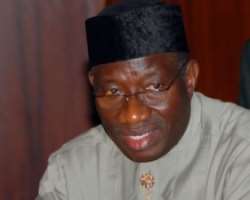 President Goodluck Jonathan today swore-in four new permanent secretaries and a member of the Federal Civil Service Commission urging them to be dedicated in their new assignments and be part of his administration's Transformation Agenda.
The President in his short speech stated that the permanent secretaries were appointed purely on merit, adding that the nation expects continued dedication from them.
Jonathan charged them to bring their wealth of experience to bear on their new responsibility.
The President also asked them to join in the government's anti-corruption crusade.
He urged the new member of the FCSC to join hands with the commission's chairman to rid the civil service of corruption.
He recalled that while he was acting President, he ordered for a probe into an allegation that some civil servants were bribing people with millions of naira for promotion.
"When a civil servant in the rank of an assistant director can bribe with N5 million to get promotion, we know that he will go there to recoup his money. We thank God that that era has ended with the reforms being spearheaded by the current chairman of the commission," he  said.
The new permanent secretaries are Alhaji Muhammed Abbas from Kaduna State, Alhaji Muhammed Bukar from Yobe State, Mr. Rasheed Adelakun from Lagos State and Mr. Abubakar Gusau from Zamfara State.
The FCSC member is Alhaji Siraju Muhammed from Kano State.