Senate distance self from impeachment calls, says they are 'utter rubbish'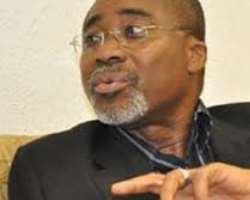 The Senate on Tuesday distanced itself from the calls for the initiation of impeachment proceedings against President Gooluck Jonathan.
Senate spokesman, Senator Eyinnaya Abaribe, simply told newsmen in Abuja, on Tuesday, that 'Senate's direct reaction to this call is that it is utter rubbish.'
The opposition All Progressives Congress (APC) after the stinker leeter written by former President Olusegun Obasanjo to President Goodluck Jonathan which was a catalogue of ills of the incumbent administration has ratcheted up calls for the president's impeachment.
The party had, on Sunday, said the president should be impeached for alleged gross misconduct in office.
Meanwhile, the Senate will, today (Wednesday), meet with service chiefs for an update on the state of security across the country.
Senate spokesman, Senator Eyinnaya Abaribe, made this known while briefing newsmen at the end of the plenary on Tuesday.
'I can also confirm that we will also host tomorrow (Wednesday), in a close session, the leadership of the country's armed forces for an interaction with the Senate with regard to the security situation that the country is facing.
'After our interaction, if there's need or if there's something that we have to let you (press) know, I will also let you know tomorrow after the interaction with the security chiefs.
'We are not going to relent on making sure that the National Assembly continues to give support to our armed forces to be sure that the security of every Nigerian is guaranteed within the borders of Nigeria,' he said.
He also reacted to the declaration by the chairman of the Independent National Electoral Commission (INEC), Professor Attahiru Jega, that there will not be elections in areas affected by the ongoing state of emergency as he said he would not want to dwell in the realm of speculation.
'I will not go into the realm of speculation. But I can say that the state of emergency is for every six months and then it will be reviewed.
'I believe that before any election will hold, that six months for a state of emergency will have elapsed and then we will also look at what the position is.
'In fact, part of the briefing that we are going to get tomorrow (Wednesday) from the service chiefs will also be along this line of knowing what the security situation in all parts of the country is,' he said.
'So I don't think that it will be right, at this time, to speculate on what is going to come forth in a year's time because we know and we assume that things must have stabilised by that time', he said.
On APC's call on NASS to commence the impeachment process against the president. What will be the Senate direct reaction?
The Senate direction to this call is that it is utter rubbish.