Nigeria unveils first unmanned aerial vehicle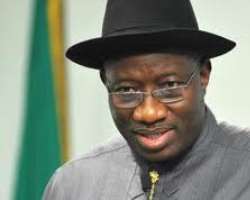 Nigerian President Goodluck Jonathan on Tuesday unveiled the country's first indigenous unmanned aerial vehicle GULMA, Xinhua news agency reported.
Jonathan said at the launch ceremony that the vehicle marked another landmark moment in the country's history.
Besides its diverse military application, the vessel designed and constructed by the Nigerian Air Force will provide a range of benefits in disaster management, power line surveys and law enforcement, and in aerial imaging/mapping, telecommunications and weather monitoring.
"It is also rapidly becoming an important tool in news coverage, environmental monitoring, and oil and gas exploration. I cannot but say how proud I am of the men and women of our Armed Forces."
Jonathan commended the Chief of Air Staff and the Nigerian Air Force for the achievement, saying it would strengthen the country and enhance its role in peace keeping and conflict prevention.