National Assembly chambers to be shut for next 12 months for renovation works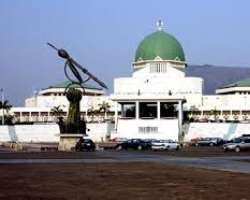 Renovation works in the chambers of the  National Assembly will force the legislators to hold plenary in committee rooms for 12 months.
Minister of FCT, Senator Bala Mohammed, who was giving a brief after the Federal Executive Council (FEC) meeting in Abuja on Wednesday, said that  the FEC has approved the sum of N40.2 billion for the third phase of the National Assembly complex renovation, to create a more comfortable environment for the law makers.
Mohammed said that the contract will include a library, budget office, banquet hall and radio facilities.
According to him,  there will also be 'a complete rehabilitation of the council chambers which will lead to the closing of the National Assembly chambers for 12 months'.
'During the period, committee rooms will be used for law making,' he said.
Also approved is a proposal by the Minister of Petroleum Resources, Dieziani Allison-Madueke, for the establishment of a national laboratory for the testing of petroleum products.
Minister of Information, Labaran Maku, who briefed state house correspondents, said the test centre, to be located in Owerri, the Imo state capital, is to ensure that products imported in the country meet the best standards.
Maku noted that the federal government rejects a situation where huge sums of money is spent abroad to carry out tests on petroleum products.