Obama, world leaders praise 'giant of history' at Mandela memorial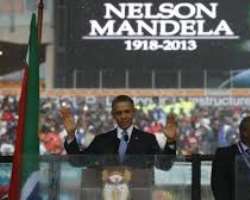 Johannesburg (CNN) – They gathered in the tens of thousands — presidents, prime ministers, royals, celebrities and ordinary South Africans — all united to say farewell to a man hailed as a global symbol of reconciliation.
In what has been billed as one of the largest gatherings of global leaders in recent history, representatives from around the world joined street sweepers, actors and religious figures to pay tribute to Nelson Mandela.
From President Barack Obama to Cuba's Raul Castro, praise came from all sides in a four-hour memorial service at Johannesburg FNB stadium for the revered statesman, who died Thursday at age 95.
"We will never see the likes of Nelson Mandela again," Obama said in a speech to roaring cheers.
"To the people of South Africa — people of every race and every walk of life — the world thanks you for sharing Nelson Mandela with us," he said, calling him a "giant of history."
Gray skies and pouring rain throughout the service did little to dampen the mood.
Inside the stadium, the atmosphere was celebratory, with people dancing, blowing vuvuzela plastic horns and singing songs from the anti-apartheid struggle.
Around them, huge poster pictures of Mandela hung inside the stadium. In that same place 23 years earlier, Mandela had delivered his first speech after he was released from prison, hailed by supporters as the hope of a new South Africa.
Also known as Soccer City, the stadium was where Mandela made his last public appearance at the World Cup final in July 2010.
On Tuesday, many people carried banners honoring "Madiba," Mandela's traditional clan name. Others were draped in materials covered with his face or the green, yellow, black, red and blue colors of the South African flag.
Some had skipped work and lined up for hours to secure seats so that they could pay their respects to a man who's considered a moral compass and South Africa's symbol of the struggle against racial oppression.
"There is no one like Madiba. He was one of a kind," South African President Jacob Zuma said.
"Everyone has had a Mandela moment when this world icon has touched their lives."
'Tata Madiba'
The memorial service, coinciding with U.N. Human Rights Day, was the centerpiece of a week of mourning.
It began with a marching band playing the national anthem.
The joyous cries died down as speeches from Mandela's family and friends, members of the African National Congress, as well as a fellow Robben Island prison inmate, began.
Anguished faces listened quietly as a sorrowful chant to "Tata Madiba" filled the air. "Tata" means "father" in Mandela's Xhosa tribe.