Anambra College Of Agriculture Secures Approval
With Buildings Erected At The Complex By Gov. Peter Obi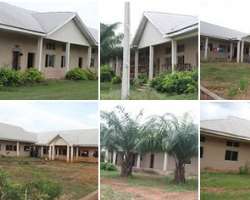 After close to 30 years of its existence, Anambra College of Agriculture, Mgbakwu has finally been recognized by various bodies, including the National Baord of Technical Education (NBTE) for the award of National Diploma (ND). This was disclosed by the Acting Provost of the School, Dr. Nneka Mefoh yesterday at the school premises, during the 5th and 6th matriculation ceremony of the institution.

The Acting Provosts said the recognition and approval of the school, as well as the accreditation of it's courses, was due to the massive provision of infrastructure at the school. She said that at the relocation of the school from Igbariam to Mgbakwu, that the school had only one dilapidated building which served as Administrative building with past Governors of the State behaving as if they were not aware of the existence of the school. She said that everything changed under governor Peter Obi, who, according to her, had not only visited the school 5 times, but had also erected 15 buildings in the school, including two hostel blocks, class room blocks, laboratories, academic staff offices, among others as well as provided the school with borehole, INTERNET facilities, 6 different categories of vehicles, installation of transformer. She also noted with pride that the Governor attends their functions with care and love.
Besides offering 6 Courses at ND level, enlistment by JAMB and other achievements, the Provosts said they would commence HND programme in the next academic session and thanked the Governor for his continued support and called for the full implementation of the law setting up the institution.
In his own remarks, Governor Peter Obi, who commissioned some completed projects, inspected ongoing ones and laid the foundation for new ones, assured that the State would continue to pay attention to the school to achieve it's full potential and contribute in training the people of the State for food security and self employment.
A total of 76 students matriculated. The Governor urged them to remain good Ambassadors of the College and the State in their future endeavors.
In another development, the Governor also inspected the ongoing Isuaniocha, Achalla- Urum road, where he charged the contractor handling the 2 Billion Naira road project to increase the pace of work or face sanction.
He also inspected the on going Isiagu bridge. He said he was always happy inspecting such projects because such towns as Isiagu did not enjoy government presence until he came and built roads, bridges, rebuilt schools and provided them with other infrastructure.