We've Been Vindicated - PDP…As Amaechi Formally Leaves For APC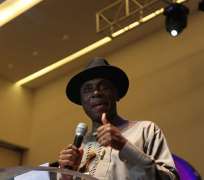 The Peoples Democratic Party, Rivers State Chapter says the official exit from the PDP by the G7 aggrieved governors, including Governor Rotimi Amaechi of Rivers State to the All Progressives Congress (APC) today, Tuesday, November 26, 2013 is not to it a shocker, but a vindication of the party's earlier revelation.

The PDP notes with satisfaction what it calls a welcome development and a big relief for its leadership and other genuine members of the party, who have continued to tolerate the rebellious and insubordinate behavior and actions of Governor Amaechi and his allies over the period in the state and at the national level.
The Party, in a statement signed by Jerry Needam, Special Adviser, Media to the State Chairman, says with the formal defection of Amaechi and his associates, the Party is now better placed and focused to deliver to the people of the state the much desired development and programmes which have been illusive following the internal ache which acted like a virus to the party by Governor Amaechi and his co-travelers.
The party says the defecting of Governor Amaechi is inconsequential to the success of PDP in Rivers State, and the nation, saying rather than create adverse effect on the party, it will further strengthen the party at all levels.
To this end, the PDP in the state says in the coming days, it will organize a thanksgiving service in celebration of the exit of the undesirable elements and to thank God for answering its prayers.
The Party also calls on its numerous members to join it in thanking God for being delivered from the evil that has held the party in bondage in the state and at national level, and to remain steadfast and even more committed, noting that time has come for those who have been held captive to be liberated.
The Party further congratulated all those who have over the period joined hands with its leadership in fighting against dictatorship, impunity and abuse of rights of the citizenry in Rivers State.
The PDP however, wishes Governor Amaechi and his ill-fated train best of luck in their future endeavour.
Signed
Jerry Needam
SA, On Media to
State PDP Chairman
Tuesday, November 26, 2013