Jim Iyke Takes Nadia Buari On Birthday Trip To Europe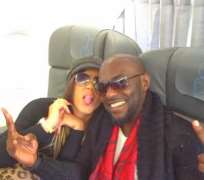 We all know Jim Iyke to be this play boy when it comes to movies but it seems he is very romantic in the real world, Despite the scandal rocking their relationship, Ghanaian actress Nadia Buari and her Nigerian boyfriend, Nollywood actor Jim Iyke are working tirelessly to rekindle their romance.
Jim Iyke just shared the above photo of the duo inside an airplane enroute Europe for her birthday bash.
"Bff's buffday on 21st. I'm takin her on a short jamboree! Madrid, Frankfurt, Zurich, Barcelona. Yaa! Bk soon" – said Jim Iyke via twitter, wish them all the best
© 2013 Nollywoodgists.com
click the link below to go to...
MORE Detained Jim Iyke's PICTURES
N15m Scam: Jim Iyke's Aged Parents Begged Me, Case Not Thrown Out Of Court--Habiba [Attached evidence].
STAR ACTOR JIM IYKE IN FRESH TROUBLE.
ACTOR JIM IYKE ANSWERS FRAUD ALLEGATIONS CRITICS.
STAR ACTOR JIM IYKE IN COURT OVER N15 MILLION FRAUD.
ACTOR JIM IYKE PARADES TWO NEW AUTOMOBILES WORTH $100,000,BUILDS CLOTHING MALL WORTH N90 MILLION IN ABUJA.
THE MANY SCANDALS OF STAR ACTOR,JIM IYKE.
FRAUD ALLEGATION SCANDAL:WHY ARE PEOPLE MAKING SUCH A BIG THING OUT OF IT ?-JIM IYKE.