I'm the genuine NGF Chairman - Governor Amaechi reminds Jonathan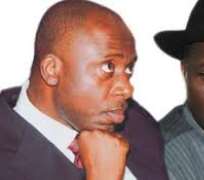 In a swift response to the claims of the Presidential Adviser on Political Matters, Ahmed Gulak, that President Goodluck Jonathan did not recognize the Rivers State Governor as the Chairman of the Nigeria Governors' Forum (NGF), Governor Rotimi Amaechi, on Monday, insisted he remained the authentic Chairman of the Forum.
The Presidential Adviser had said in a publication on Monday that the Plateau State Governor, Mr. Jonah Jang, who lost the NGF election to Amaechi, in May, enjoyed the recognition of the President as the NGF chairman.
But a statement by the Rivers State governor's Chief Press Secretary, Mr. Dave Iyofor, on Monday said Gulak's statement demonstrated the Presidency's lack of basic democratic culture.
He said, 'The Presidential Adviser on Political Matters displayed his complete contemptuous lack of basic democratic tenets and principles and sadly painted the President Goodluck Jonathan Presidency as a partisan undemocratic Presidency that has no regard or respect for the peoples' mandate expressed through the ballot box by saying the Presidency does not recognise Rivers State Governor Rotimi Amaechi as the duly elected Chairman of Nigeria Governors' Forum.
'It is a known fact that in the election for the chairman of NGF, held on May 24, 2013, Governor Amaechi got the mandate of the majority of his colleague governors to continue to serve as their chairman when 19 governors voted for him as against 16 that voted for Governor Jonah Jang; 19 is always greater than 16. It is that simple.
'But for the Jonathan Presidency (according to Gulak) 16 is greater 19! We, like most Nigerians, are further saddened that the likes of Gulak in the Presidency are so ignorant and totally bereft of substance that they lack the capacity to comprehend the quantum of damage comments like that do to the President and the Presidency, they are paid with taxpayers money to serve and protect.'