Garki hospital makes history, completes three Kidney transplants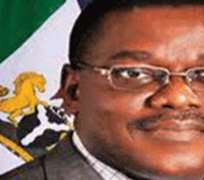 The Garki Hospital Abuja at the weekend recorded a historical feat with the successful completion of three kidney transplants, an achievement within Nigerian medical circle still considered a rare feat. Addressing journalists on the operation, the Group Medical Adviser of the hospital, Dr. Ibrahim Wada, said the introduction of a public private partnership (PPP) arrangement in the running of the hospital was instrumental to carrying out the kidney transplant.
According to him, 'The kidney transplant is a milestone relating to the key objectives of setting this PPP that is trying to bring back to Nigeria the kind of treatment Nigerians often to go abroad to pursue.'
He explained that with the successful transplants, the hospital's management has decided to make it a continuous operation, mostly for the less privileged. He added that to ensure that the treatment is available to the poor, the hospital has set in motion a Pro-poor Foundation so that persons in the low-income bracket can avoid kidney transplant.
While explaining the process during the operation, leader of the medical team and former President of the International Society of Surgeons, Prof. Nadey Hakem, said by carrying out the transplant, the first of its kind in the hospital, he would continue to train Nigerian surgeons on how to successfully carry out kidney transplants.
Hakem urged Nigerians to focus on how to improve medical services in the country, as it will be cheaper to carry out kidney transplants in the country than elsewhere. 'To carry out three kidney transplants within 24 hours is an exceptional achievement; Nigeria has many patients with kidney problems, a transplant anywhere else is more expensive than here. Nigeria should be selfish and use her resources for herself instead of spending those dollars and pounds abroad,' he said.
Hakem is regarded as international expert among surgeons in kidney transplants and is based in the United Kingdom. He has written 26 books on the subject as well as carried out about 2,000 kidney transplants and open-heart surgeries. His clients include world leaders, superstars and presidents of some countries.
Chief Medical Director of the hospital, Dr. Elijah Miner, said though the operation was highly subsidised, it was important for government to invest more in kidney treatment, in areas such as transplants and aftercare.
Miner explained that the process leading to the operation was very transparent, as the hospital ensured that there was 'ethical consideration' before it commenced the operation In one of the operations, a father (name withheld), age 42, donated one of his kidneys to his son, who is aged 19. In total, there were two donors for kidney transplants and one patient for open-heart surgery.
The hospital's management told the press that the open-heart surgery was still ongoing and will be completed on today