Group To Umeh: You Killed APGA In South East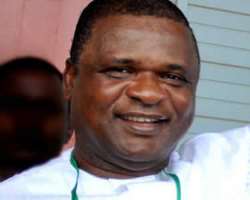 A pro-democracy group, South East Progressives Assembly (SEPA) has accused the National Chairman of the All Progressive Grand Alliance (APGA), Chief Victor Umeh of killing the party in the South East zone.
The group said it supports the recent statement of the Imo state governor, Owelle Rochas Okorocha declaring APGA a dead party in the south East zone blaming Umeh as being responsible for the situation.
In a statement signed by its president, Hon. Ebere Uzoukwa and made available to Pointblanknews.com in Owerri, the group insisted that there are clear indications that APGA remains a dead party in Imo, Anambra, Umeh's home state and the entire South East zone.
Recall that Umeh had attacked Okorocha for declaring APGA dead in Imo state and threatened to flush him out of the governorship seat in 2015.
Apparently miffed by Umeh's threat, SEPA declared "We had expected Umeh to bury his head in shame for being responsible for the unfortunate demise of the hitherto Igbo party. His sit-tight approach to leadership which has perpetually seen him preside over the activities of APGA for about 12 years against democratic ethos, lawlessness, dictatorship and corruption are among anti- democratic instruments Umeh employed in tearing APGA into shreds thus chasing away its members. It is amazing and laughable that while the embattled factional chairman was busy casting aspersions on Governor Rochas Okorocha, over 22 state chairmen the same day decamped en mass to join the governor in APC. Yet, Umeh is claiming that APGA is alive.
'How can one adjudge a party that lost over 22 state chairmen with members of their various executives and followers in a single swoop to be alive? If Governor Rochas Okorocha can influence the joining of over 22 state party chairmen, why is it difficult for Umeh to accept the fact that APGA is dead in Imo, Anambra his home state and other states in the south east with Governor Okorocha's exit?
'Instead of  concentrating on campaigning for the two candidates his party nominated to vie for the November 16 Anambra state governorship election, the embattled factional chairman is busy dissipating his little remaining energy in Imo state where he lacks the capacity to influence even a single vote. May be, Umeh is waiting for November 16 to believe that APGA is dead in Anambra. May we at this juncture put it to Umeh ahead of time that APGA will definitely lose Anambra governorship seat mainly because of his greed, sit- tight mentality and his one-man leadership style. That Umeh and his brothers killed and handed over the carcass of APGA to their paymasters in the Peoples Democratic Party (PDP) is a fact well known to Nigerians" the group declared.
SEPA also queried how Umeh intend to actualize his 'flush-out' threat in 2015 in view of  Okorocha's visionary leadership and massive delivery of democratic dividend which it maintained has endeared the governor to Imolites.
"We also wish to remind Umeh that Ndi Imo are moving on the same page with Governor Owelle Rochas Okorocha whose visionary leadership has elevated the state to the league of the fastest developing states in Nigeria. Umeh can attest to the fact that Governor Rochas Okorocha is presently delivering dividend of democracy to the people who elected him into that position and one wonders how he intend to execute this infamous 'flush-out' project.
Umeh should have known before now that Okorocha was elected by the good people of Imo state while his campaign was spearheaded by notable members of AGENDA, his own political structure. Imo APGA before Governor Okorocha joined was merely crawling with no iota of political strength to win election at any level. Umeh knows this to be true.
The group commended Okorocha for dumping APGA for reasons which it described as consistent with the constitution and relevant electoral laws to give representation to Ndigbo in APC and warned Umeh to desist from further attack on the governor, threatening that it will not hesitate to banish him from the zone if he continues to fight the governor.