Suntai: Nine Taraba lawmakers meet to empower deputy gov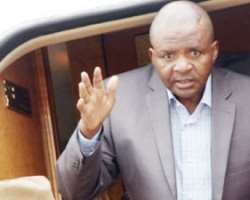 The Political crisis in Taraba State too yet another twist on Monday.
Nine lawmaker of the State's  House of Assembly met and passed a resolution empowering Deputy Governor Garba Umar to continue as acting governor.
It said its decision was an adoption of its executive session of August 29, which mandated the acting governor to continue running the state.
The nine legislators were among the 16, who had on Thursday  asked Suntai  to go back to a United States hospital for further  treatment  and allow  his deputy, Alhaji Garba Umar, to  continue to run the state  in  acting capacity.
Sixteen members of the House last week rejected the letter transmitted by Governor Danbaba Suntai, saying the acting governor should remain in charge.
The plenary was presided over by the  Deputy Speaker,  Mr. Tanko Makarfi, in the absence of the  Speaker, Mr. Haruna Tsokwa, who  had yet to return from Abuja where he  attended the  Peoples Democratic Party mini-convention.
Makarfi said it was convened to adopt the last executive session.
But he did not explain the absence of the other members of the G16. Speaker Haruna Tsogwa was away in Abuja.
Six lawmakers who were part of the 16 did not participate in the sitting  done without the mace.
However, the Majority Leader, Mr. Joseph Abasu, said that other members of the assembly would  respond fully to the development on Tuesday (today).
'We have resolved that we will not talk until tomorrow (Tuesday). We just came back from Abuja and we are trying to gather our facts  before saying anything,'Abasu said.
But another member of the assembly, Mr. Mark Useni,  described the plenary  as a ruse. He said the assembly was supposed to have ended its  legislative calendar last Wednesday, but could not  because the speaker was nowhere to be found.
Useni said, 'Taraba House of Assembly was supposed to end the current legislative calendar on Wednesday, but was not officially closed because the Speaker who was to close the calendar was absent. The closure was supposed to be backed by two-thirds of the assembly and if there should be any extension, it should still be approved by two-thirds of the  assembly. So their so-called plenary is a ruse. We were even told that they read from a prepared speech.'
However,  the Chief of Staff to the Governor, Mr. Aminu Jika, has  dismissed a rumour that Suntai had travelled out of the state to continue his treatment.
Jika, who spoke with our correspondent in Jos, Plateau State  on Monday, said the governor was in Jalingo  and that the letter to the  assembly still subsisted.
The Chief of Staff said, 'There is only one governor in Taraba State. There can never be a governor and an acting governor in any state.  It is an insult to even assume and claim that. Somebody is wrong somewhere  and I think sooner than  later,  it will be sorted out.
'I see my boss on a daily basis and his improvement has been  wonderful. Since he was taken to Germany and from there to  the US after the plane crash , it has been a wonderful story and we thank  God for that.   'Yesterday (Sunday), I was with him and he was playing a game with his sister and he was very alert and active.  He even  watches  television before he goes to bed.
'I am very satisfied with the state of his health. I think sooner than later, Governor Suntai will be doing more than he is doing now in terms of discharging his functions and in terms of giving leadership to the people of Taraba State. If not  for  the  politics over   his health condition, we would not have reached this situation.  I still don't understand why people are doing what they are doing. Why should people hide in Abuja  and Lagos and be saying what they don't know about. We want  them to play the game by the rules.  We will not  rush him (Suntai) because of what people are saying.
'Leaders and chief executives don't have to be in their  offices before they can  function. Governor Suntai  is giving directive  on  the running of the state and he does not need to be physically present before things are done.
'After all,  leaders who are well don't do the work themselves, they can be anywhere and delegate functions. It is the prerogative of chief executives to work from anywhere in the world and anywhere in the country . In short, he  is doing well;  he is recuperating and we're not going to rush him until he is medically advised.
'I have no doubt in my mind that the governor  is on course and his transmission of the letter to the Speaker, House of Assembly, according to Section 190 (2) is valid; there is no contest over that act of the governor and we are doing everything possible to go through this initial challenge.'