Ngige Panics Over Willie Obiano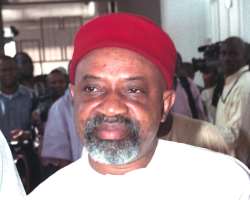 The All Progressives Congress, APC,imposed governorship aspirant in Anambra State, Senator Chris Ngige has alerted the people of the plot by Governor Peter Obi to mortgage the state by fronting a business partner as the candidate of the All Progressives Grand Alliance, APGA, warning that the people should not be fooled.
Ngige also said his endorsement as a consensus candidate by the South East caucus received overwhelming support of party members.
He said that in order for the party to keep to the dictates of the electoral law, the party has decided to conduct the governorship primaries. He said it is not true that his open endorsement by Governor Rochas Okorocha was meant to give him an edge.
Speaking with journalists after submitting his nomination form at the APC headquarters in Abuja, the former governor said: "What has manifested is that the incumbent governor wants to hand pick somebody from Fidelity Bank, an entity where he was chairman before becoming the governor.
"Now he wants to bring back an Executive Director of the bank to govern the state. So all along when he was preaching zoning to the north, the people know better. There is great lamentation and mourning by the people of the Anambra North over what have befallen them."
While defending the agitation by the Anambra North of marginalisation, Ngige said that as a realist he knew that the Obi government was playing hide and seek and that what Anambra needed was the best and that it is not segregated.
But Governor Obi said Ngige is only misinforming the public. Speaking through his aide that he would support a candidate from Anambra North and that is simply what he is doing.
Senior Special Assistant on Media and Publicity, Valentine Obienyem, Obi said: "In the normal mischief characteristic of Dr. Chris Ngige, rather than face the man with clean record and verifiable past, he is misinforming the people. What he is doing is a clear sign that he is not happy at the emergence of a man known for his character. He is already jittery and has so soon started speaking in tongues. Is it an Okija-going man or a depraved one that Obi should support? Ngige should better face his campaign than engage in cheap gossip and flights of fancy.
I wonder why Ngige who sold his heart and soul from Igbo Godfather to a Western Godfather,who refused to sponsor one single bill during his 2 years in the Senate,who refused to advocate on behalf of his people who were deported from the domain of his sponsors in Lagos or his people whose shops were closed for political gain,suddenly he is finding fault from a better candidate.
If he has conscience with his involvement with OKIJA and Political devastation that ravaged the state during his days in State house,he should have hiding his face in shame .He should have apologised to the state for that shame instead he is out causing more mischief.
"Evidently, Dr. Willy Obiano is more accomplished than he is. With a past not tainted by scandal or story of intrigues one must be invented. Is Ngige saying that any person who worked in a company Obi has interest should not be the Governor of Anambra State? As a person, does Ngige not have shares in companies? Can we say that any person working or who had worked in a company he has interest should be ostracised. This is childish tantrums."