Wike Has Lost The Rivers Power Tussle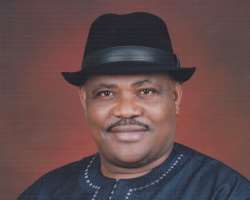 Minister-of-State-for-Education-Nyesom-Ezenwo-Wike
It is not gentlemanly the statement that was credited to Barr Ezebunwo Nyesom Wike, the junior Minister of Education on August 3, 2013, at his Grassroots Development Initiative (GDI) rally in Port Harcourt, that he will make the state ungovernable, by making sure that the residents will not sleep with their two eyes closed. This is where the junior minister misfired and lost in the rough-and-ready and undiplomatic political fights that have been rocking the state, which he is, one of the arrowheads.
No matter who may be compelling Wike to engage Governor Chibuike Amaechi of his state in this careless and blundering fight, it is only the bamboozled that would still stand by Wike's side, after hearing or reading the unedited statement of the junior minister, which was that the residents will no longer sleep with their two eyes closed.
It is incongruous for Wike to think that this era was that time, when people made flippancy comments and got out of it. No more. It is conceivably that the presidency, which observers have fingered in many accounts, of being the powerhouse for Wike, has gone unaccompanied against him. Possibly, it is now cautioning Wike that a man in such a position as his, is not supposed to be found with unprintable comments.
What the Wike's comment has shown is that the Rivers State that he is plunging into a free-for-all fight place cannot be entrusted into his care. No one hangs a bone on a dog's neck! The irony of the matter is that Wike did not see reason to make the state ungovernable, when he was appointed the Chief of Staff by Amaechi and, was later made the campaign manager of the governor in the 2011 electioneering campaign, before he was appointed minister.
It is now that he was appointed a minister, by the same governor, who was under pressure two years ago by Mr. President to drop Wike and nominate a woman, that Wike wants to chase the residents out of the state, because of some political rapacious gains that do not last.
No doubt, Wike is a powerful man. But one side of his powerfulness has bitten the dust in the recent times, due to his perceived overzealousness. Wike has lost his once political sagacity and dexterity in the Rivers State politics, following his uncalculated games and utterances. The crises also, have to-some-extent, humbled Governor Amaechi to use his head, instead of his mouth, which he was once known to be a specialist in.
Reading in-between lines of any comments that Wike has made, one would understand that his major problem is just conceit and self-importance. He has said that he has overstayed as a minister, at least for two years. He has also said that if by tommorrow he ceases to be a minister, it will not change anything about him, not even the brainless fight he said that he believes in.
What Wike has refused to understand or understands, but has refused to imbibe in his life is that in the 2007 he has boasted of not being a minister, but fought for Amaechi, he was not a national figure. He was then playing Obio/Akpor and ASALGA kind of politics. But today, he is a minister of the federal republic, yet, still behaving like one ward counselor, who is ready to fight, because of something that does not meet the eyes.
One cannot understand what Wike stands to gain in all these. What precedent is he setting for the teeming youths, who, perhaps, are looking-up to him as their mentor? He has boasted of knowing the politics of the state more than anybody and that when he was in Rivers State, people were sleeping with their two eyes closed and were travelling about. So..?
Wike should spare the residents these disgraceful embarrassments and comments by saying that the PDP in the state suspended his rivals in the state, because he is a lion that should not be touched. And that it was because they touched the lion that they were suspended. Odikwa egwu! Lion is just an animal! And animals do not know anything comprehensible to man.
What was expected of Wike to do was to redress anything he had, politically, with his challengers in the court of law, and not to place the entire state in an insecure atmosphere and calls such, political wizardry. What kind of hogwash mentality is that and in which constitution did he read that a people must not sleep again through riotous activities, like the one in which some governors from the North who visited Amaechi were molested at the airport by the same Wike and his allies?
It is advisable to tell Wike to understand that he has drowned himself in the political impasses. He should take time and observe that Mr. President and 'Mrs. President' that he has always leaned on to cause confusion in the state are distancing themselves from him, because of his one statement of making the residents of Rivers State to sleep with their two eyes open.
There is no amount of support that Wike may drum for Mr. President's 2015 re-election bid that will make the president to change his removed mind towards Wike; the president knows that Wike has brought him to world's condemnation about the Rivers State crises. Wike is just running round to see if he wins the first family's favour again that he once enjoyed, but no more.
This is why Wike has continued to use such hoodwinking statement as: 'In Rivers State, Jonathan is our son, Jonathan is our in-law and his wife is our daughter. So, we have no choice, but to continue to support him. Your duty is to mobilise the entire state for our son when he decides to run eventually. We believe that the people of South-South cannot sacrifice, whatever it is, our own son for anything less than President.' But the president is now wiser and the Rivers masses and South-South are wiser than the 'Lion' of a minister. Wike continues to lose.
Of-late, a group known as the Ikwerre Peoples Forum dissociated itself from Wike and his angling in becoming governor after Amaechi. The group believed that since both men came from the same tribe in Rivers State, it cannot support any Ikwerre becoming governor in 2015, when it was supposed to be the turn of another tribe in the state.
And this has been the position of Amaechi: That power in the state must shift to another tribe or senatorial zone in the state. But the 'Lion' is saying no. This is why many informed residents of Rivers State are seeing Wike as a joker.
On-the-contrary, Gov. Amaechi should not be defocused. He should face good governance and make sure that all and sundry that may have not been paid their salaries are being paid. The state cannot continue to afford any agbero to dictate the pace of politics in the state again. Imagine that just once a common domestic Chief of Staff wants everybody to be paying allegiance to him. The height of end of politics!
Let Wike and his Grassroot Development Initiative (GDI) stop bringing themselves to the public ridicule by saying that Amaechi is being wasteful with the resources of the state to fight what they say is a national battle. Which national battle? Wike is expected to resolve the ASSU first strike before talking anymore. This is his number one failure as a minister. Wike should do that so that the ASSU people will sleep with their two eyes closed.
He should refrain from making himself a man who is known to be making persons and organisations not to sleep with their two eyes closed. Afterall, Wike is the person who is supposed not to be sleeping with his two eyes closed for failing to manage the ASSU, but this is not for a man who has no self-esteem.
Disclaimer:

"The views/contents expressed in this article are the sole responsibility of the author(s) and do not necessarily reflect those of The Nigerian Voice. The Nigerian Voice will not be responsible or liable for any inaccurate or incorrect statements contained in this article."