FASHEUN RECOVERING FROM AUTOCRASH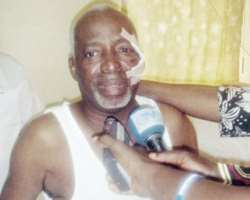 nerPostTitle">FASHEUN RECOVERING FROM AUTOCRASH Written by furtune Headlines http://www.nigerianbestforum.com/blog/?author=25 http://www.nigerianbestforum.com/blog/?cat=24685 Mar 2, 2010
Fasheun recovering from autocrash
By Dimeji Kayode-Adedeji
March 2, 2010 05:53AM
http://www.nigerianbestforum.com/blog/wp-content/uploads/2010/03/dt.common.streams.StreamServer3.jpeg Fredrick Fasheun at the hospital after the accident.
Founder of the Odu'a Peoples Congress (OPC), Frederick Fasheun, is presently hospitalised at the Federal Medical Centre (FMC), Abeokuta, following an auto crash on Sunday.
NEXT reliably gathered that the OPC boss was returning to Lagos from Abeokuta after the Congress meeting on Sunday evening, when one of the tyres of his black colour E-Class Mercedez Car burst while on speed along Abeokuta-Siun-Lagos road, resulting in loss of control by his driver.
The car was said to have plunged into the bush with the two occupants. Fasheun sustained a deep cut on the head, and had to be rushed to the hospital and was still at the Amenity Ward as at the time of this report.
In his admission ward, Faseun was found with his wife, Mariam Fasheun, and two of their children, Olumuyiwa and Oluremi, attending to his need.
Narrating his experience when NEXT visited, Mr. Faseun said he was responding to treatment, recalling that all he could remember was that his car had burst tyre while on motion, and subsequently plunged into the bush.
While giving thanks to God for sparing his life and that of his driver, the OPC boss added, 'I am responding to treatment, though I sustained injuries on the head. The hospital management here are up to the task; they have been giving me good care.'
The victim's wife, Mariam Fasheun, told NEXT that she was grateful to God for sparing her husband's life.
Meanwhile, the driver was said to have been discharged from the hospital.