You Can Start Dating With Going To the Movie Theater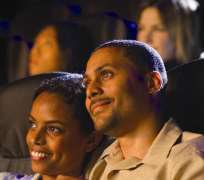 You Can Start Dating With Going To the Movie Theater
Listen to this article. Powered by Odiogo.com
My first date with LO was taking her to a popular movie theater on Victoria Island in Lagos, Nigeria.
We spent some time on her campus at the University of Lagos before going to the cinema to see an Eddie Murphy with Kerry Washington movie and then later posed for photographs.
Romance plays a great part in going to the movies and it is better than going to the night club or pub.
Sitting close to each other, sharing drinks and popcorn or other cookies and the thrilling moments of a movie will increase the romantic warmth between you.
She can rest her head on your shoulder and then put your arm around her and peck or kiss her if she permits you.
I always prefer to sit with my date at the end of the last row where we can snuggle together and I have been able to do some smooching during the screening of a movie.
Some subtle romantic movies like using your fingers to stroke her eyebrows and if you are an experienced lover or player, you can admire her cleavage, commend her beautiful eyes (even if they are not beautiful), lips, nose, ears and hair.
Touching her ear can tickle her romantic fancy.
Then take some popcorn and feed her lovingly and tell her to do the same.
Seeing a romantic movie on a date can put both of you in the right mood for sharing the most loving moments.
1. It is always better to let her choose a movie of her choice.
Give her that obligation and RESPECT.
2. Don't dictate the pace, make room for her to sit first and make sure she is comfortable.
Open the bottle or can of drink for her and also taste her popcorn and tell her to taste yours.
It is better if you share the same pack.
3. Don't touch her without permission and PLEASE, don't extend your fingers or hands to her sensitive parts on a first date and if you are not her main guy. I mean don't trespass if she is not your girlfriend, except you want to snatch her from another guy.
Snatching another person's lover can be suicidal, so be careful.
4. If she coughs, sneezes or belches, say "sorry" and politely pat her hand or shoulder. And offer her a clean handkerchief if she does not have any.
5. Compliment her by saying she is as attractive as the beautiful actress in the movie. Mention similarities in hair, skin and other physical features. Appreciate her!
Appreciate the best attributes of a woman by appreciating the good actresses in the movie.
Ladies like men who respect other women.
They are kindred spirits.
6. Don't be distracted from her and the movie.
Don't answer phone calls while you are in the movie theater.
Switch off your cell phone once you step into into hall.
7. Don't be in a hurry to leave and if you are going to the GENTS, leave your cell phone with her. It shows mutual trust.