2015: Jonathan Has Every Right To Contest - Urhobo Progressive Union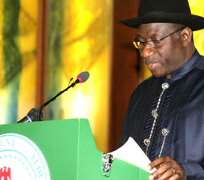 SAN FRANCISCO, July 22, (THEWILL) – Rising from a meeting with President Goodluck Jonathan on Monday, the leadership of the Urhobo Progressive Union (UPU) declared that the President, just like every other Nigerian, has the right to contest in 2015.
UPU Leader, Gen. Patrick Newton Aziza, who led a powerful delegation of the union to President Jonathan over the vexed issue of the planned relocation of the Petroleum Training Institute (PTI), Effurun, among others, made the declaration, saying the President is free to contest when the time comes.
Speaking with newsmen after the meeting, Aziza, who was the first military administrator of Kebbi State, refused to disclose what they discussed with President Jonathan, saying : "Everybody is entitled to contest...You know when you come to see your brother, there are so many things that you'll discuss and you won't like to say it outside, it's not everything you discuss that you will say outside."
He nonetheless disclosed that the purpose of their visit was to show solidarity to the president and to thank him for what he is doing, adding "and we pray God to give him the strength to do more."
Commenting on issues of amnesty and oil theft, Aziza said: "I will recount amnesty to militants back at home. We love it, let it go round. That's all we discussed." He also said : "I support the harsh treatment to them (oil thieves). If anybody is a thief, treat him like a thief. Don't romance him, let them pay the price."
President Jonathan, who assured the delegation that his administration had no intention of moving the PTI from its present location, however urged them to disregard rumours that the institute is to be relocated.
Maintaining that his administration attaches much importance to the contributions of the Urhobo to national development and will therefore do all within its powers to address issues that are of concern to them, President Jonathan thanked them for their support,saying he appreciated their visit.
A statement issued by the Special Adviser to the President on Media and Publicity, Dr. Reuben Abati , said the President promised that all the concerns raised by the union will be referred to the relevant quarters for prompt action.
"Government is to solve problems. Our duty is to see how we can address the concerns of all of our people," the President was said to have told the delegation.
Briefing the delegation, as directed by President Jonathan, on actions already being undertaken by the Federal Government to address issues raised by the UPU, the Minister of Niger Delta Affairs, Elder Godsday Orubebe, said that the East-West Road will be completed by December, 2014.
Orubebe said that of the 42 bridges and 1040 culverts that were needed on the road, 36 bridges and 860 culverts had already been completed, while two more bridges will be completed by the middle of next month.
He assured the delegation that President Jonathan has approved a financial plan that will ensure that the East-West road project, which was handed over to his Ministry for supervision in 2010, is completed on schedule without further delay.
The Ministers of Agriculture, Solid Minerals and Transport, also briefed the delegation on the provision of improved oil palm and cocoa seedlings to farmers in Urhobo-land; the planned location of a modern cassava processing plant in the area; ongoing and planned rehabilitation of ports in Warri, Sapele, Koko and Burutu, and the current status of the Delta Steel Company.
Top Urhobo leaders on the UPU delegation included Chief Gabriel Ofotokun, Prof. Adego Eferakeya, Hon. Ogbaburhon, Ovie Omo Agege, T. K. Dugbo, Olorogu Macaulay Popo, Tuesday Onoge, Frank Efeduma and G. G. Darah.
Others were Bar. Akpomudje, Dafe Akpedeye, John Onojakpor, Veronica Ogbuagu, Grace Usirare, Joe Asah, Moses Odibo, O. Omene, Simion Owhofa, John Onojeharho, Omo Odo Tadafe, Father Abaka and Blessing Ovwata as well as traditional rulers of Okpe, Ogor, Olomu, Abraka, Mosogar, Ughelli and Idjerhe.