JUDE EZECHUKWU, EXIT OF FOOTBALL ICON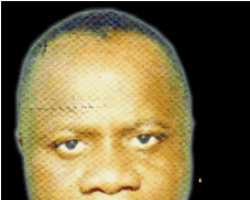 nerPostTitle">JUDE EZECHUKWU, EXIT OF FOOTBALL ICON Written by Prince Sports http://www.nigerianbestforum.com/blog/?author=1 http://www.nigerianbestforum.com/blog/?cat=134 Feb 28, 2010
Jude Ezechukwu
Exit of football icon
By CHRIS OKECHUKWU
Sunday, February 28 , 2010
http://www.nigerianbestforum.com/blog/wp-content/uploads/2010/02/ezechukwu.gif Ezechukwu
Tribute to Chief Jude Ezechukwu, the late proprietor of Jasper United Football Club, Onitsha, first chairman of Club Owners Association of Nigeria and former board member, Nigeria Football Association (NFA), who was laid to rest last Friday in his home town, Umuchu in Anambra State.
Something symbolic happened when, in 1993, billionaire businessman, Chief Jude Ifedilichukwu Ezechukwu (Nwakibeya of Umuchu Traditional Kingdom), left Onitsha, Anambra State, his booming building materials empire and a retinue of acolytes to pitch tent in Lagos - the Centre of Excellence.
He brought ideas that transformed the entire Nigerian football circus with his glorious efforts with (then) amateur side, Jasper United FC, which later metamorphosed into a gigantic brand in Nigeria and African football.
Born into a family of five (three boys and two girls) in Umuojogwo Village of Umuchu in Aguata Local Government Area of Anambra State, young Jude weathered the storm of a life of deprivation and scarcity to establish himself in the building materials business. As a result of his intense struggle for survival in life, the young Ezechukwu learnt early how to survive as a man. As early as 12, on leaving Otu Obosi Primary School, Fegge, Onitsha, he was apprenticed to an Onitsha based business man to learn the art of buying and selling - the traditional mainstay of the average Ibo man.
Just like every other 'oga' (master), his benefactor believed firmly that traders do not need to know how to read and write. As far as his ward could talk a customer into buying and paying for goods, education could wait. Explaining why young Jude cried his eyes out when, albeit he came out in flying colours in the common entrance examination, he was denied his long-held ambition of furthering his studies. Fate had presented him an opportunity of studying in the revered Christ the King College (CKC), Onitsha, but his 'master' had other ideas. Undaunted, nonetheless, young Jude picked up the pieces and moved on.
Six years of hard work, diligence, determination and loyalty saw him graduate from the 'school' of buying and selling. Having been let off the clutches of his hardliner boss, young Ezechukwu, with the meagre resources at his disposal, settled down in the commercial city of Onitsha to etch out a spectacular career. But like most honest ways of making money, the task was not easy. Twenty years later, the Jasper United boss, in retrospect, confided to those close to him this way.
"It was really hard surviving those difficult days.
I had to starve for days to ensure I never tampered with my 'capital' so as to remain relevant in the business. From my days with my mentor, I came across many admirers and customers. I was influential because of my devotion and competence. These customers traced me to my new environment and that was how I broke even. But even at that, pressure to meet up with their demands was excruciating. I had to shuttle between Onitsha and Sokoto, Maiduguri, Kano etc. to deliver goods. In those days of scarce communication gadgets, it was unbearable. I nearly gave up at a point, but had always told myself that better days awaited me in future."
And better days did arrive with an aggressive marketing instinct manifesting in the young man. In addition to his vigour and commitment to rendering efficient services to his numerous customers, he introduced ingenuity to his trade - he ventured into the import business. Before long, he had effectively established himself as the numero uno importer of high-tech building materials from Italy. With him, customers in Nigeria and the entire West Coast were assured of 'ote' (authentic products, imported directly from the manufacturers in Italy).
From then on, the irrepressible Umuchu high chief never looked back. His pedigree and reputation opened once impenetrable doors as his company, Jasper United Commercial Enterprises (West Africa) Limited was appointed sole distributors and manufacturers representatives by top Italian and Japanese firms. Top on the list was Tecomec Italy.
Chief Damian Egojiolu, a Gabon-based Nigerian-building materials merchant, recalled with bitterness his experience in year 2000. "I set out from Libreville (Gabon) looking forward to a wonderful business partnership with Tecomec of Italy, the number one building materials manufacturers. Armed with my international passport, entry visa, hundreds of thousands of dollars etc., I arrived Italy and traced the headquarters of the Italian company, only to be informed that a certain Chief Ezechukwu from Nigeria had bought over the franchise in the whole of Africa."
Such was Chief Ezechukwu's creativity in the world of business.
He had the business empire in his breast pocket and the building materials sector under his boots. Little wonder an ex-governor of one of the South Eastern states bowed and called him "ochi-ora" (leader). That means Chief Ezechukwu was the supreme commander of the Nigerian/African business society.
Those traits he brought along, while taking a dive into the (then) obscure world of Nigerian football. He came along with a dazzle of show business to the game he loved so much. He spent his fortune on the sport and gave it a professional outlook at a time most people would rather invest their hard-earned funds on shares, real estate, manufacturing etc. While his humble beginning (in football) could be traced to Premier Football Club, Onitsha, which he bought over from the amateur ranks, and renamed it Jasper United FC, his big break came when he ushered in great innovations that changed the face of professional football across the continent.
Immediately on acquisition of the assets and liabilities of Premier FC, it took a season for Jasper United to gain promotion to the (then) Nigeria Division 2 (now Professional) League. After one more season, Jasper United bulldozed its way to the top of the Nigerian Professional (now Premier) League cadre, coming second only to eventual champions, Udoji United of Oba, under controversial circumstances. Till date, the decision to award the title to Udoji United, via boardroom points, instead of the Chief Ezechukwu-led side, that won the game on the field, has remained an object of debate.
The emergence of the 'Ogbunigwe Warriors' sent the alarm bells ringing and jitters up the spines of their rivals. Just then, the fear of Jasper United became the beginning of wisdom for established teams like Rangers International of Enugu, Bendel Insurance of Benin, Shooting Stars of Ibadan, Iwuanyanwu Nationale of Owerri etc., which found it hard to believe what had hit them. With a second-place finishing in the elite league, came an awesome chance to fly Nigeria's flag on the continent, and Chief Ezechukwu and his 'army' grabbed it with both hands.
Their debut outing in the CAF Cup was rewarded with a semi-final appearance, quite beyond the expectations of Nigerian/African followers. For a club that three years back, was struggling in the amateur ranks, it was simply beyond imagination. But Chief Ezechukwu was not done yet.
Brought up in the bustling Fegge a suburb in Onitsha, Nwakibeya always seemed to be seeking the headlines. He was always thinking ahead of others. He was that kind of person that craved to make an impact.
Now, Nigerian professional footballers can afford to ride in posh cars, live in state-of-the-art mansions, wine and dine with the presidents of this world. They (footballers) date and tie the nuptial knots with beauty queens, sleep in five-star hotels, fly in the first class compartments of top-flight airlines in the world. They can now afford to sign lucrative contracts/fat cheques and smile to the banks with salaries enough to offset the annual budget of some third world countries courtesy of one man - Chief Ezechukwu.
The late Jasper proprietor it was, set the ball rolling for Nigerian players to collect millions of naira as sign-on fees. The idea of sponsoring players abroad for greener pastures was also his brainchild. At the last count, over a thousand Nigerian players left the shores of Nigeria through the benevolence of the Umuchu high chief. Such players like Ifeanyi Ekwueme and his siblings, who played for the national teams at different levels, Emmanuel Olisadebe, who later became the back bone of the Poland national team at Japan/Korea 2002 World Cup finals, ex-super Eagles stars like Henry Onwuzurike and Uche Akubuike, Ike Kalu, who took the Italian soccer scene by storm, Henry Onwuzurike, Dondo Avaa, and lots of others, locally and internationally, were all products of the Onitsha-based club side.
Nigerian football coaches and administrators are not left out. He changed their lives and gave them a sense of belonging. Alphonsus Dike, David Adiele, Mike Idoko, C.C. Amuzie etc. all passed through the man with the Midas touch. Quite unlike the days when coaches and administrators were told that their rewards were in heaven, Chief Ezechukwu ensured that the likes of Shaibu Amodu, Kadiri Ikhana, Dike etc. had a piece of the action.
No one who sees the massive development in the Nigeria Premier League of toady will believe that the foundation for the original Professional League (as it was then known) was laid by Chief Ezechukwu. Like the proverbial mustard seed, which became the oak tree, the present day Nigeria Premier League (NPL) board's humble beginning, the idea to float a Professional League body, which will not be at the beck and call of the Nigeria Football Association (NFA) officials, was nurtured by the indefatigable Anambra State-born football enthusiast.
Little surprise he was rewarded with the chairmanship of the Club Owners' Association of Nigeria and then board member of the Nigeria Football Association (NFA), two positions he held with dignity.
However, by the turn of the millennium, precisely in the year 2000, Chief Ezechukwu suffered a massive setback. Dare devil armed robbers stormed his residence and left him half dead, but for an emergency surgery in Germany. On his return, after hundreds of thousands of dollars have gone down the drain, cracks began to appear on the walls of Chief Ezechukwu's empire. And with many of the clubs he partnered in the multi-million dollar player transfer business pulling out and reneging on payments, the die was cast.
Players involved did not help matters as well, as they, in connivance with the foreign clubs who paid their bills, frustrated the efforts of the Umuchu chief. Litigations took their toll and things turned from bad to worse. Perhaps, leaving the building materials import trade completely was not the best option after all, considering the murky water that was Nigerian football, but Chief Ezechukwu found out very late. His illustrious club's relegation to the professional, and subsequently to the amateur league, was the last straw that broke the camel's back.
But like the dogged fighter he had been all his life, he refused to throw in the towel, accusing the organisers of the league, Nigeria Football Federation (NFF) of foul play and victimisation. After a protracted battle with the NFF officials, which he lost, Chief Ezechukwu went on sabbatical.
Shunning football, he relocated to Abuja, tried his hands on a number of things before settling down for contracts. But things had already fallen apart.
To make matters worse, his immediate family (a wife and seven children), who are resident in faraway USA, who could have provided the succour, emotional and psychological support needed at such trying times, were hundreds of thousands away. And while in an effort to join them and get back on track, death struck.
Though he had his faults like every one of us, Chief Ezechukwu was a man, who touched the lives of many. He was amiable. He loved his family to a fault and would have given everything to have them by his sick bed before giving up the ghost. That surely would have been his greatest desire. But death had other ideas.
His contributions to the development of football in Nigeria were remarkable. With his demise, we have lost one of the pillars of football in the history of this nation. He was a role model for many youths, who benefited from his milk of human kindness. His legacies will be one that includes dedication, doggedness, kindness, interest in the game, youth emancipation, to mention but a few.