Wayne Rooney: Eden Hazard Keen For Striker To Join Chelsea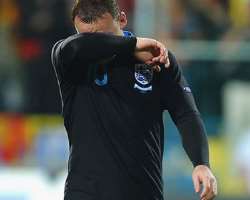 Eden Hazard would relish the chance to play alongside Manchester United striker Wayne Rooney at Chelsea.
There is speculation about the future of the 27-year-old England striker who in May stated his desire to leave United, although new manager David Moyes insists he is not for sale.
"Rooney would be a brilliant signing. He's a great player who has the experience and he's still only young, at 27," the Chelsea midfielder said.
"But it's not up to me."
Hazard, 22, also revealed that Jose Mourinho, who returned to Chelsea for a second stint this summer after leaving Real Madrid, tried to sign him when he was just 19 and still at French club Lille.
"He told me he'd asked Lille, but I wanted to stay there until I was 21 and develop my game," said Hazard, who moved to Stamford Bridge last summer in a reported £32m deal.
"I must have been 19 or 20 at the time. Real Madrid is a wonderful team, but I had so much still to prove in the French league. I stayed because I didn't want to leave too early."
Mourinho won two Premier League titles in 2005 and 2006 during his first spell at Chelsea which ended in September 2007.
Hazard is confident that with the Portuguese in charge they will win more silverware and their first league title since 2010.
"With him in charge, we can win matches and claim trophies," he said.
"His arrival is important certainly. But it won't be him who actually goes out there and wins the title.
"We have to concentrate on what he wants of us and, if we all give 100%, we have a real chance of winning the title.
"Of course there'll be big rivals out there but we have a real chance this year. And, with a good manager in place, our chances are even greater."
Another player the Blues have been linked with is Belgium striker Christian Benteke. The 22-year-old, who scored 19 league goals last season, has handed in a transfer request at Aston Villa.
Midfielder Hazard believes his compatriot is ready for a move to a big club.
"He had an unbelievable first season for a young striker in the Premier League," Hazard added.
"His dream is to play even higher. I think he's got all the attributes to do well at a big club."
BBC SPORT