Contract Scam: Ogbulafor, Former PDP Scribe, Admits Collecting N2 Million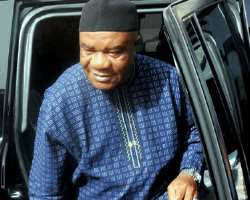 The Former national chairman of the Peoples Democratic Party, Vincent Ogbulafor, on Thursday admitted he collected N2 million from Emeka Ebilah in the N107 million Independent Corrupt Practices Commission's suit against him.
The ICPC is prosecuting Ogbulafor, Ebilah and one Jude Nwokoro, on a 17-count charge of conspiracy and award of fictitious contracts valued
N107 million.
The News Agency of Nigeria reports that the offence contravened Section 19 of the Corrupt Practices and other Related Offences Act, 2000.
Ogbulafor told an Abuja High Court when he was cross examined by ICPC Counsel Marcus Abu, that the money was given to him after his tenure as minister of Special Duties.
He said the Ebilah, who is the second accused person in the charge gave him the money as his contribution for his campaign as National Secretary of PDP.
He also admitted recommending the second accused as a member of the National Economic Intelligence Committee (NEIC) in July 2010 to President Goodluck Jonathan.
He, however, denied appointing Ebilah as the secretary of the committee after its reconstitution.
Ogbulafor told the court that he was directed to reconstitute NEIC by former President Olusegun Obasanjo in July 2010.
He further admitted knowing one Chris Nwoke, who lived in the United States of America and that he did not know if he was the same person the investigating officer was talking about.