Gordons, Arik Air Staff Indict In Debt Mess...Comedian Debunks Involvement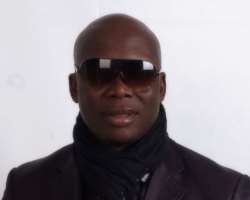 Popularly comic act, Gordons is in the news. Rumour has it that the talented comedian, is said to be highly indebted to Arik Airline. Story making the round has it that during the cause of his last show, Gordon Generation Next, a few weeks back in Asaba, he had an arrangement with one of Arik Airline staff who issued 15 return tickets, Asaba to Lagos, for him and his co-comedians and artistes billed to perform on his show.
Gordons, we learnt, promised to pay back as soon as the show was over, but to the total dismay of the Arik staff, Gordons is yet to make good his promise, meanwhile, Arik, is anxiously awaiting the concerned staff to balance his account record for the transaction, or he stands the risk of being prosecuted for fraud.
The Arik Staff, we gathered, is in police cell while Gordons is said to have been silent over the issue. Miffed by this report, in its usual style, www.nollywoodgists.com spoke with the amiable and talented comic merchant, Gordons; who vehemently disassociated himself from the story, describing it as blatant lie saying nothing of such ever happened between him and any staffer of Arik Airline.
"My brother, there is no iota of truth in this story, how possible is that for Arik Air to issue 15 tickets to anybody without being paid? I had my show truly, as fantastic and awesome as the show was, I did not make a dime on it because I was robbed at the gate and no single sponsor came to us. I personally spent my money. I flew in some artistes and comedians truly but I paid fully for the transaction, so, where the issue of me owing or being indebted to them is coming from is what you should make clear to me.
The only person that helped out in purchasing some return tickets for some artistes is Delta State House of Assembly Speaker and I appreciated him for that. So, my brother, it's all lies," Gordon replied!