City Down Chelsea In Eight-Goal Thriller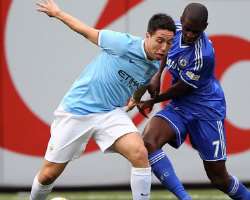 French midfielder Samir Nasri scored twice as Manchester City defeated Chelsea 5-3 on Saturday in a crowd-pleasing friendly at Major League Baseball's Yankee Stadium.
In addition to Nasri's double, Gareth Barry, James Milner and Edin Dzeko scored to give Manchester City a second victory over Chelsea in three days despite a second-half double from Ramires and a free-kick goal by Juan Mata.
The English Premiership rivals followed up their seven-goal clash in St. Louis on Thursday – in which City erased a three-goal deficit to win 4-3 – with another free-wheeling contest.
Barry opened the scoring in the second minute after a wayward pass from Chelsea's Oscar, whose ill-judged pass attempt gave the ball to Manchester City's Sergio Aguero in front of Chelsea's goal.
Aguero, celebrating a one-year contract extension announced earlier in the day, couldn't take advantage. But he forced Chelsea keeper Hilario into a save, giving Barry room to tap home.
The quick goal warmed up the crowd of 39 462 on a chilly night at the home of baseball's New York Yankees.
On Tuesday the Yankees were announced as co-owners, along with Manchester City, of Major League Soccer's newest club – the New York City Football Club, which is to begin play in 2015.
Nasri doubled the lead in the 26th, taking a pass from Spain's David Silva and smoothly lofting the ball over Hilario.
Pressure by Chelsea paid off a minute into the second half when Ramires controlled a long pass by David Luiz and slotted it past substitute goalkeeper Richard Wright to make it 2-1.
City responded through Milner, who after an exchange with Edin Dzeko fired into the far corner to build the lead to 3-1 in the 55th.
Chelsea closed the gap again, Ramires converting his second goal of the match from a Torres cross in the 69th.
Nasri re-established city's two-goal cushion in the 73rd, working his way through the Chelsea defence to lift the ball over substitute keeper Petr Cech for 4-2.
With nine minutes left, Chelsea again pulled within one when substitute Mata's free kick found the net off the underside of the crossbar.
But Manchester City weren't finished, and Dzeko's fired in the last goal of the night from 20 yards out.
SUPER SPORT