Boko Haram Gunmen Shoot Ex- Deputy Governor's Son In Maiduguri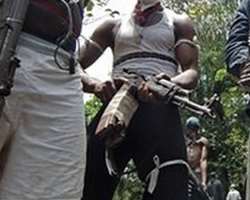 SAN FRANCISCO, April 17, (THEWILL) – It was a narrow escape for Shehu Abubakar, son of the former deputy governor of the State, Alhaji Abubakar Jatto, Tuesday afternoon, in Maiduguri, the Borno State capital, as gunmen believed to be members of the Boko Haram sect shot him severally on the leg before making away with his car.
His father, Abubakar Jatto, was the deputy governor of the state between 1999 and 2003, when Mala Kachallah was the governor.
Shehu was said to have gone for shopping in the Dala area of Maiduguri metropolis at about 2.30pm on Tuesday when four gunmen suspected to be members of Boko Haram fired several shots at him as they snatched his car and left him in the pool of his own blood.

"We were around the area few metres away from the provision shop when four gunmen in a tricycle ambushed the young man in front of the shop, open fire and everybody ran away from the area. It was later we learnt that his car was snatched and that the man was shot in the leg," an eye witness said.

Some officers of the Joint Task Force (JTF) were said to have arrived the scene few minutes later and took Shehu to the emergency unit of the University of Maiduguri Teaching Hospital (UMTH).

Residents of the area however said the gunmen crashed the car few minutes later and three of the suspects died on the spot while JTF arrested the two others.

Confirming the incident, JTF Spokesman, Lieutenant Colonel Sagir Musa, said two of the suspects were arrested. He however said he was not aware that any of the attackers died while fleeing the scene of the attack. He also said he was not aware of the killing of any resident around the Lagos Street by gunmen suspected to be Boko Haram.