BOKO HARAM AS THE ARMED WING OF JAMA'ATU NASIR ISLAM (JNI)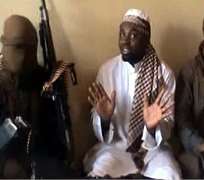 From the utterances of one Mr. Khalid Ahmed Aliyu, who is claiming to be the secretary of Jama'atu Nasir Islam (JNI) a Kaduna based Muslim organization, one can safely say that Boko Haram is the armed wing of the JNI.
Better still JNI Kaduna is the major sponsor of the Boko Haram Islamic fundamentalists. With other sponsors like Major General Muhammadu Buhari, IBB, Rabiu Kwankwaso, Murtala Nyako and many others in that order.
His utterances particularly since April 2011 when President Jonathan won his first term of fours, has been nothing but friendly. But what is disgusting about his unguarded utterances are his many lies about the Nigerian Christians and particularly the amiable and God sent President of CAN, Pastor Ayo Oritsejafor.
The armed wing of JNI, the Boko Haram, has been clear about its mission. Wipe out Christianity in Northern Nigeria and the Middle Belt of Nigeria.
So far, they have destroyed over 200 churches in Borno and Yobe states. They equally killed 1,500 Christians.
These they have done through attacks using suicide bombings and well planned attacks like the one on COCIN Headquarters Jos and the Catholic Church in Madalla Niger State.
To confirm their mission and satisfaction with their job "well done", the Boko Haram leader and ghost lieutenant have always owned up and claimed responsibility for such heinous crimes on innocent Christians.
Up till the time of writing this article, there has never been any attack by Boko Haram on any mosque anywhere in Nigeria.
The question begging for answers from Khalid Ahmed Aliyu now is; why lie to the world that Boko Haram has killed Muslim people?
Can he point to one mosque ever bombed by Boko Haram, the armed wing of his organization JNI?
Rather than begging the Federal Government of Nigeria for amnesty for Boko Haram, I expect the JNI to demand for Sovereign National Conference to determine whether we still want to live together as a country or not.
Let President Goodluck Jonathan be aware, the one mistake that will be his undoing will be to make the mistake of granting amnesty to Boko Haram Islamic murderers.
President Jonathan sir, a word is enough for the wise. 'DO NOT MAKE THE MISTAKE OF GRANTING AMNESTY TO BOKO HARAM.' The Muslim elites from the far north want to get the oil money from the Niger-Delta and use it against you in the 2015 election.
Please be counseled now for Boko Haram is the armed wing of JNI. I urge you to investigate. Whatever happens, be assured that we shall support you totally in the 2015 election.
Written By Ndiameeh Babangida Babreek.
[email protected]

Disclaimer:

"The views/contents expressed in this article are the sole responsibility of

thewillnigeria.com

and do not necessarily reflect those of The Nigerian Voice. The Nigerian Voice will not be responsible or liable for any inaccurate or incorrect statements contained in this article."
Articles by thewillnigeria.com