OF PETER ODILI'S CONSCIENCE, OR LACK OF IT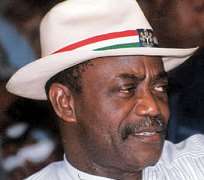 Yet another book has been written about the politics of the recent past. Now their action is over they seem to believe it is time to tell their stories. Everyone has the right of free expression, at least in Nigeria, and so they should go ahead and tell their stories. As someone put it, 'If you do not agree with what was written, then, write your own story'. This time, I had to borrow a copy of the new book 'Conscience and History' written by former governor of Rivers State Dr. Peter Odili. I have never met the man in person. The closest I came to meeting him was a condolence visit to the Rivers State government house, led by the former Minister of Education Oby Ezekwesili after the Sosoliso airline crash in 2005 in which both the then President of PENGASSAN, Comrade Uche M. Okoro and Dr. Odili's relation lost their lives. Unfortunately I could not go in with the delegation to see the governor as I was submerged in other logistics.
So all I know about him come from the general public perception and from the bits and pieces of information that I pick up in the media. Those who know Dr. Odili better than I do say he is a generous man. Some say, even to a fault. Many believe that this actually became his achilles hill as he allegedly failed to differentiate between state funds and private funds in pursuit of his generosity and philanthropic inclinations. In the process he acquired an illusory legitimacy among the elite for whom it became an article of faith that 'Peter pays'. Granted, some of his donations were for worthy causes, yet how can one explain that Rivers State alone donated 350 million Naira out of a total of 405 million Naira collected for the building of the National Christian Centre in Abuja. Despite all these, 'Donatus' was still allegedly alienated from the ordinary people that he was elected to govern.
Pundits proclaim that the tragedy of Odili's book is that of timing. If it is designed as a public relations offering, then it came a little too late. Many Nigerians have obviously already made up their minds about the author, and there is some unwritten consensus about what his name conjures in the political arena. Rightly or wrongly.
Reading his story produced mixed feelings as one got the impression of a hastily assembled selective narrative by someone extremely unhappy with his place in history. The fact that the book contains almost 70 pages of pictures may lead some people to dismiss it as a desperate and distorted effort by the author to launder his battered image. I feel differently about it though. Clearly, I have learnt a lot reading the book. No book on Nigerian politics is a waste of time, no matter how partisan or self-serving. In his book, Dr. Odili revealed himself as an astute and very experienced politician that went through a lot of grooming on the art of politics; an accomplished medical practitioner, and a self made man. I was amazed to learn that he was an ex-Biafran soldier, a member of both the Constituent Assembly in 1988/89 and the Constitutional Conference in 1994/95 even before he emerged as a Deputy Governor.
Three things jumped at me which I hope to talk about in this review. The first is the outstanding entrepreneurship acumen of the author. Imagine starting life with only one pound after the civil war and multiplying it through hard work. I wonder why he omitted the name of the person who provided him such a lifeline in his book. I commend the resilience evident in his account of how he conquered poverty early in life and rose from a pauperised background to relative comfort even while still in the medical school at the University of Nigeria, Nsukka. The second point is the author's gracious description of former Head of State Abdulsalami Abubakar. In his own words 'Abubakar must be remembered kindly in history and commended for being the shortest military regime in Africa with an unquestionable noble commitment to return to democratic governance. He resisted the trap of an extended transition and rebuffed entreaties for some prolongation under one guise or another'. Though I concur with the author on this point, a few more knowledgeable people hold the view that the former Head of state merely responded to domestic and international pressure at that time.
The third and probably most important thing was the articulate vision that Dr. Odili had before he resumed office and what came out of it at the end. Reading pages 87-115 of the book left one in no doubt that the author understood the problems of his state and marshalled out a very comprehensive strategy to solve them. From traffic congestion, to insecurity, infrastructural decay, public transportation, housing, revenue generation, power etc. There was a detailed multi-sectoral plan of action that was aimed at transforming his state. Dr. Odili narrated how he wanted to run an open, accountable government that will be frugal in spending, responsive to the yearnings of his people and committed to take actions that will improve their lives. According to his story, he wanted to run a government devoid of profligacy, fiscal banditry and corruption. He canvassed prudent management of resources, uncompromising respect of the rule of law and unwavering commitment to good governance. So what happened?
What he made of those elaborate plans now remains a subject for history. I seldom visited Rivers State at the time Odili was in office, but those who had firsthand experience of the 'reign' of Dr. Odili have very strong views about his record in implementing these principles he professed initially, and those views are not exactly very positive. One lady travelling with me on a British Airways flight to Nigeria, who used to live in Port Harcourt in her assessment of Odili declared that 'that man may not necessarily be a bad man.
His love for power and his not being assertive of his own principles created an opportunity for people around him, to take advantage of him and manipulate him until he completely lost control'. Yet those lieutenants will ultimately disappear, if they have not already, and leave the leader to take responsibility for his actions and inactions. There is a remarkable display of equanimity in the book as the author owned up to his mistakes, a leader who aspired to high office inspired by great ideals but ended leaving behind a pile of unfinished business.
So when do you listen to your conscience as a politician? In power or out of power? In all, what legacy did Dr. Odili leave behind despite his talent, industry and political endowment? Candidly, what could be going on in his innermost mind now even after writing the book? What about those who allegedly truncated his bid for Presidency? Could he have made a better or worse President than what we have now? Where are the journalists who crowned him the 'Golden Governor'? One very senior friend and respected lawyer opined that 'Odili was a bad governor and likely to have been a far worse President if Nigeria had had the misfortune of being inflicted with his rulership'. So many unanswered questions. But as the author said on page 124 of his book, 'history and conscience are the ultimate judges of man'- so shall it be not only for Peter Odili but unto all of us.
Written By Uche Igwe

Disclaimer:

"The views/contents expressed in this article are the sole responsibility of

thewillnigeria.com

and do not necessarily reflect those of The Nigerian Voice. The Nigerian Voice will not be responsible or liable for any inaccurate or incorrect statements contained in this article."
Articles by thewillnigeria.com