Judiciary Workers Begin Nationwide Strike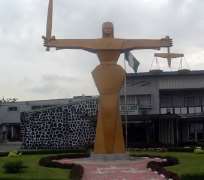 SAN FRANCISCO, March 11, (THEWILL) - Judiciary workers under the aegis of the Judiciary Staff Union of Nigeria, JUSUN, began an indefinite strike, Monday, thus shutting down all federal courts in the country.
The commencement of the industrial action followed the expiration of a 21-day ultimatum given to the Federal Government by JUSUN for the implementation of consolidated judicial salary structure, CONJUSS, an enhanced pay package, for judiciary workers in the country.
Lamenting that the Federal Government was only paying lip service to the issue of industrial harmony in the judiciary sector, JUSUN President, Comrade Marwan Mustapha Adamu, vowed that his union was ready for a "fight to finish " with the Federal Government on the issue of enhanced salary package for his members.
At the federal high court complex in Abuja, the union's task force members ensured that workers who turned out for work were turned back to enforce the strike order.
Prison officials who brought some accused persons from Kuje prison to court in Abuja were also turned back as lawyers who had cases slated for the day were also turned back.
A seminar for judges of the federal high court organised by Nigeria Deposit Insurance Corporation, NDIC, in conjunction with National Judicial Institute, NJI, was almost affected as participants and officials of NDIC were initially disallowed to enter the court complex. However, law enforcement officials intervened and facilitated their entry before the seminar kicked off.
Pension thief, Mr. John Yahaya Yusufu, was also among those affected by JUSUN strike as ruling on his application for bail in a non-declaration of assets charge brought against him by the Economic and Financial Crimes Commission, EFCC, was fixed for Monday.
Also affected by the strike was the scheduled delivery of judgment in a suit seeking for the reinstatement of ousted former President of the Court of Appeal, Justice Ayo Isa Salami.
Yusufu's bail application had suffered similar fate last Monday when the ruling was first scheduled but could not be delivered due to a seminar organised for judges by Asset Management Company of Nigeria, AMCON, at Lagos. The trial judge, Justice Adamu was a participant at the seminar and was not available to deliver his ruling on Yusufu's bail application. It was later rescheduled for Monday.