Egypt In FIFA Top 10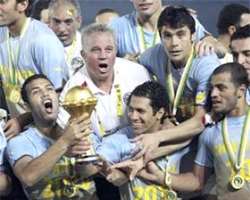 African Champions Egypt have climbed into the top ten in FIFA's latest world ranking released yesterday.
The Pharaohs moved up 14 places to number 10 and are now Africa's number one team.
Not only is this Egypt's highest placing ever, it's also the second highest ever by an African team after Nigeria placed fifth in 1994.
Nigeria moved seven places to 15th and are now Africa's second best placed team in the ranking.
Egypt beat Ghana's Black Stars 1-0 in Sunday's final to win the Africa Cup of Nations in Angola.
It's their third consecutive victory in the competition and their seventh in total.
Other big movers in the FIFA ranking are Ghana who moved seven places to 27th and are now fifth on the African table.
However it's not such good news for Africa's other World Cup bound teams. Cameroon lost nine places and are now 20th in the world, while Ivory Coast and Algeria fell six and five places respectively.
Further down the ranking, Zambia (73rd, up 11) and Malawi (82nd, up 17) also made good progress. Spain continue to occupy the top spot in the world ranking ahead of Brazil and the Netherlands.
Top ten in Africa:
1. Egypt (10th worldwide)
2. Nigeria (15th worldwide)
3. Cameroon ( 20th worldwide)
4. Ivory Coast (22nd worldwide)
5. Ghana (27th worldwide)
6. Algeria (31st worldwide)
7. Gabon (44th worldwide)
8. Burkina Faso (51st worldwide)
9. Mali (53rd worldwide)
10. Tunisia (55th worldwide)