Islamic Group Claims Responsibility For Expatriates In Bauchi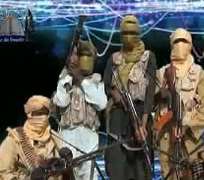 SAN FRANCISCO, February 18, (THEWILL) - Jamaatu Ansarul Muslimina Fi Biladissudan, a relatively unknown Islamic group has claimed responsibility for the abduction of seven expatriates in the employment of construction company Setraco in Bauchi State on Sunday.
The group in a statement said it acted "Base on the transgression and atrocities done to the religion of Allah SWT by the European countries in many places such as Afghanistan and Mali etc."
Though the group did not make any demands in the statement, it however warned of dire consequences if authorities move to free the captives.
The expatriates forcefully taken from a Setraco facility in Jama'are Local Government Area are a Briton, a Greek, an Italian and four Lebanese, including a woman and a girl.
Authorities are yet to release their identities.