PHOTOS: Jonathan, Wife, Oshiomhole, Dangote, Akala, Others At Obasanjo Foundation Launch In London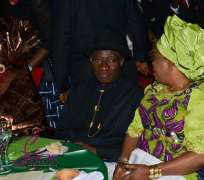 Last week Friday, former President of Nigeria, Chief Olusegun Obasanjo, launched his charity organisation in London.
The grand style event saw four African leaders including the President of Nigeria, Goodluck Jonathan, attend the event. The president's wife, Dame Patience Jonathan was at the event too with her husband.
Presidents of Ghana, Benin Republic and Sierra Leone were also at the occasion. Top dignitaries like Governor Adams Oshiomhole of Edo State, former governor Ala0 Akala of Oyo State, Aliko Dangote and some others graced the ceremony.
Here are some pictures from the event.