Ethiopia Plane Flew Wrong Way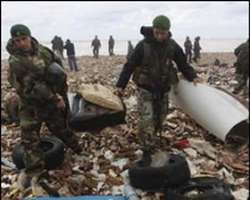 The Ethiopian jet that crashed into the sea off Beirut on Monday did not fly in the direction suggested by Beirut's control tower, Lebanese officials say.
Ministers said the pilot of the Ethiopian Airlines jet was asked to correct his course, but turned in the opposite direction.
It is not clear why this happened, or if it was beyond the pilot's control.
The authorities continue to search for the bodies of the 90 people on board the plane, who are all feared dead.
At least 24 bodies have been pulled from the sea so far. The authorities are also looking for the plane's flight recorders.
'Fast and strange turn'
Transportation Minister Ghazi Aridi told the Associated Press news agency that the Beirut control tower had asked the pilot "to correct his path, but he did a very fast and strange turn before disappearing completely from the radar".
On Monday, Defence Minister Elias Murr said the pilot of the plane had failed to follow instructions on take-off from the control tower for unknown reasons.
"A command tower recording shows the tower told the pilot to turn to avoid the storm, but the plane went in the opposite direction," he said. "We do not know what happened or whether it was beyond the pilot's control."
Ethiopian Airlines said late on Monday the pilot had more than 20 years of experience, AP reports.
Gone
The Addis Ababa-bound flight plunged into the Mediterranean shortly after take-off from Beirut in a storm.
Flight ET409 disappeared from radar screens some five minutes after take-off at about 0200 on Monday (0000 GMT), near the village of Naameh, about 3.5km (2 miles) from the coast.
Eyewitnesses said they saw the plane fall into the sea in flames.
Some relatives of those on board have been asking why the plane was allowed to take off in such poor conditions, the BBC's Andrew North in Beirut reports.
Officials said that 83 passengers and seven crew were on board the Boeing 737-800, which can take up to 189 passengers. Most of those on the flight were Lebanese or Ethiopian.
The UK Foreign Office said there was one British national and one person of dual nationality on board.
The other passengers included citizens of Turkey, France, Russia, Canada, Syria and Iraq, Ethiopian Airlines said in a statement on its website.
Among them was Marla Pietton, the wife of the French ambassador in Beirut.
Some of the foreign passengers are reported to be of Lebanese origin.
Source: BBC