N55m Xmas Gifts, sex scandals rock Ekiti House of Assembly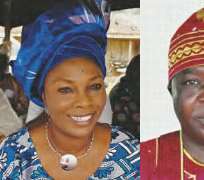 The Ekiti State House of Assembly is presently enmeshed in sex scandal, involving the Speaker, Dr. Adewale Omirin and the House Chief Whip, Mrs Wunmi Ogunlola and another N55 million scandal.
As the story goes, N55 million was allegedly approved by the State Governor, Kayode Fayemi and released to the House for Christmas and New Year Gifts.
Multiple sources alleged that the Speaker cornered the fund, releasing a paltry sum of N50,000 to each of his colleagues in the House.
Workers in the House that ought to have been paid Xmas bonus from the N55 million were also not paid a dime.
A source said only the Chief Whip, Mrs Wunmi Ogunlola benefited immensely from the fund as she was the one who was in charge of supply of Hampers. Each of the hampers allegedly cost N40,000.
A few days ago, news went viral on social media that the Speaker was in London with the Chief Whip and the Chief Whip's husband.
Source said Tunde Ogunlola, a retired Court Registrar was once married and that he threw his first wife out of the house bcos of Wunmi, who is now the House of Assembly Chief Whip.
Wunmi was ferried out of the house on Monday by Taye, the Speaker's driver.
Worried about the whereabouts of his wife, Ogunlola, a retired Court Registrar had gone to d Jibowu Hall, Govt House, Ado-Ekiti where the ACN Women Wing was holding a meeting.
He had excused the Speaker's wife out and asked her the whereabouts of his wife because the Speaker's driver identified as Taye came to the house around Bank Road in Ado Ekiti a few days ago and took his wife away. The Speaker's wife asked the "lawmaker's husband" if he could identify the said man that came to his house, and the man answered in the affirmative. Mr Speaker's wife then called some government drivers and without wasting time, Mr. Ogunlola instantly identified Taye as the driver who came to pick his wife!
There and then, Mr Speaker's wife descended on Taye, performed some Mike Tyson style on him before stripping him naked! As if that was not enough, sources also said that Mr Speaker's daughter called in from London to tell her mum that a "strange" woman had taken over their home in London.
Though no official statement has been issued by the Speaker and the Chief Whip, some ACN supporters claimed that the duo's trip to London was official and that another member of the House, Hon. Segun Erinle was also part of the trip.
However, contrary to this claim, our investigation revealed that Hon. Erinle travelled out of the country before the end of December, 2012 and has not returned to Nigeria since then while Mr. Speaker and his Chief Whip travelled out of Nigeria to London on Monday, January 21, 2013.