House To Release Result Of Public Sessions On Constitution Review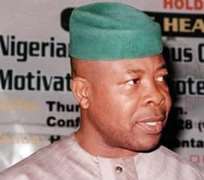 The House of Representatives will on January 31, 2013 unveil the collated results of the Peoples Public Sessions it conducted on the review of the
1999 constitution on November 10, 2012 across 360 federal constituencies of the country.
According to the Deputy Speaker/Chairman, House of Representatives Ad-hoc Committee on Constitution Review, Rt. Hon. Emeka Ihedioha, the collated results will be presented at a public ceremony to be held at the House of Representatives during which the voting pattern on all the issues itemised in the template for voting during the sessions will be unveiled as decided by Nigerians at each federal constituency.
This ceremony is in keeping faith with the commitment made by the House of Representatives to make the process of the peoples public sessions and indeed, the entire constitution amendment exercise transparent and accountable to the Nigerian people.
As was the case when representatives of stakeholder organizations and civil society groups were invited to actively participate in the conduct of the peoples public sessions and the collation process thereafter, representatives of labour, trade unions, students, women, professional groups and other stakeholders have been invited to the ceremony on January 31st.
They are the Nigeria Labour Congress (NLC), Trade Union Congress (TUC), Nigeria Bar Association (NBA), Academic Staff Union of Universities (ASUU), Nigeria Union of Journalists (NUJ), National Association of Nigerian Students (NANS), National Council for Women Societies (NCWS), National Union of Local Government Employees (NULGE), National Youth Council, Nigeria Union of Teachers (NUT) and representatives of civil society organizations.
Also invited to the ceremony which will be presided over by Speaker of the House of Representatives, Rt. Hon. Aminu Waziri Tambuwal, CFR, are chairman of the Nigeria Governors' Forum, and Chairman, Conference of Speakers of State Legislatures.