Alleged N2.1bn Fraud: House To Probe Security Printing & Minting Company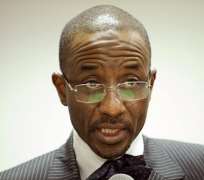 ABUJA, January 17, (THEWILL) - The House of Representatives, Thursday, took a decision to constitute an ad hoc committee to investigate the management and board of the Nigeria Security Printing and Minting Company (NSPMC) over an alleged missing N 2.1 billion.
The Central Bank of Nigeria (CBN) governor, Sanusi Lamido Sanusi, is the chairman of the board of the NSPMC and CBN owns 77 percent of NSPMC; Bureau for Public Enterprise (BPE) has 20.6 percent and the De Rue of United Kingdom controlling the remaining 2.92 percent.
The resolution to probe the alleged N2.1 bn deal was sequel to the unanimous adoption of a motion raised by the chairman of the House Committee on Rules and Business, Hon. Albert Sam-Tsokwa (PDP-Taraba) and 60 others.
Leading debate on the motion, Sam-Tsokwa alleged that in the first week of December 2012, N2.1 billion of newly-printed N 1,000 notes mysteriously disappeared in the course of production from the company's vaults due to security breaches allegedly admitted by the management of the NSPMC.
The lawmaker noted that this was the second time large sums of monies would disappear in mysterious circumstances in the course of production.
Sam- Tsokwa said there had been conflicting information on the actual amount declared missing.
"While the CBN governor said it was about N2 billon, the Managing Director of the company had claimed that the amount missing was N1.5 million and the media adviser to the Managing Director, claimed that the actual amount missing was N900,000 due to a security breach and that a security operative was arrested in Lagos with the said sum of N900,000," he said.
According to Sam-Tsokwa, the Media Adviser to the Managing Director claimed that the missing amount was N900,000 and that a security operative was arrested in Lagos with the money.
He observed that the CBN owns 77 per cent of the NSPMC, BPE has 20.6 per cent while De Rue of United Kingdom owns the remaining 2.94 per cent, making the company a public one.
The legislator said about 39 workers of the company were summarily sacked when the matter became public.
It will be recalled that since the story of the missing N2.1 billion became public, there has been an uneasy calm at the company.
The erstwhile chief executive officer of NSPMC, Ehi Okomoyon, has already been placed on indefinite leave.