Bankole Calls For Prayers On Ekiti Re-run Polls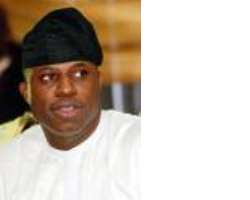 The Speaker of the House of Representatives, Mr Dimeji Bankole, has called for prayers for peace and
conclusion of the re-run governorship election in Ekiti State.
Bankole made the call yesterday at the Murtala Muhammed Airport, he addressed newsmen.
He asked that people should pray for peace and the conclusion of the election so as to enable that nation move forward.
Bankole said that in spite of INEC's inability conclude the re-run election in the state, there was no
deadlock there.
"As I described it to you some weeks ago; there is no deadlock in Ekiti State. All I told Nigerians
and the entire world a few weeks ago is what is happening now," he said.
The Speaker, however, stressed the need to promote peace in Ekiti State so as enable the state to move
forward.
It will be recalled that a re-run governorship election was held in 10 local government areas of Ekiti State on April 25, following an order by the Court of Appeal.
The election was, however, inconclusive, as there was no polling in some wards of Oye Local Government Area due to insecurity.
Mrs Ayoka Adebayo, the state's Resident Electoral Commissioner, who disappeared after her alleged resignation, later resurfaced, pledging to conclude the election at a later date.
Mr Kayode Fayemi (AC) and former Gov. Segun Oni (PDP) were the only candidates who contested the
elections.
|
Article source