WHY US SHALE GAS FRACTURING TECHNOLOGY IS BAD FOR NIGERIA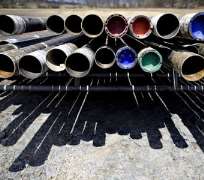 Recent technological development of hydraulic fracturing in natural gas production from shale formations in the United States has impelled a revolution for energy dependency. This development will influence not only energy dependence in the US but also global energy prices including the Nigeria Liquefied Natural Gas market (LNG). Prior to shale gas development, the United States was the world's largest importer of LNG.
The United States has vast reserves of shale formations, which often extend over conventional natural oil and gas basins, but are generally deeper and more difficult to exploit. Shale gas was first extracted as a resource in Fredonia, NY in 1825, in shallow, low-pressure fractures. Due to very low permeability of shale, industrial-scale shale gas production did not begin until the 1970s, when declining production potential from conventional gas deposits in the United States spurred the federal government to invest in Research and Development (R&D). These demonstration projects ultimately led to directional and horizontal drilling, micro-seismic imaging, and massive hydraulic fracturing.
Hydraulic fracturing is a technique used to increase the production of oil and natural gas in unconventional formations such as shale, coal beds, and tight sands. It was apparently first used in the United States in 1949 by Stanolind Oil in Hugolind field in south western Kansas. The process involves the injection of large volumes of specially engineered fluids containing chemical additives and proppant under high pressure into the well to create and hold open fractures in the formation. These fractures increase the exposed surface area of the rock in the formation and, in turn, stimulate the flow of natural gas or oil to the wellbore. George Mitchell, the American geologist who pioneered the present day use of hydraulic fracturing, combined the techniques of horizontal drilling and hydraulic fracturing, allowing greater yields of shale gas at reasonable cost, thereby, setting the stage for the American shale gas revolution.
Hydraulic fracturing is said to have facilitated the economical production of indigenous unconventional gas reserves in the US. The US Energy Information Administration (EIA) estimates that the U.S. has about 1,744 trillion cubic feet (tcf) of technically recoverable natural gas, including 317.6 tcf of proved reserves. Presently, shale gas consist of about 20% (487 trillion cubic feet or 138 billion cubic meters) of the total US gas production, and it is projected to reach 50% by 2035. The US, one of the major importers of Nigeria's natural gas, has drastically reduced its demand from 57,929 to 2,362 million cubic feet - EIA.
The US shale gas revolution challenged countries with large shall gas reserve to act. While those with fracturing technology have concluded plans to export shale gas excesses to countries in need of supply, others are in the process of exploiting their reserves. Present trend indicates that Nigeria will in the near future lose its place in the international gas market. For example, the US and UK have concluded plans to export shale gas to Japan one of the few future viable market for the Nigeria LNG. Also, India's largest gas importer, Petronet LNG, has concluded plans with US companies for the supply of its gas – limiting Nigeria's access to that market.
In a recent study of countries with shale gas reserves, the EIA found that both China – a potential buyer of Nigeria's oil and gas, with the world's largest shale gas reserve and South Africa – a potential future competitor , with the world's 5th largest reserves have began the process of exploitation and production for shale gas.
Written By Felix Ayanruoh

Disclaimer:

"The views/contents expressed in this article are the sole responsibility of

thewillnigeria.com

and do not necessarily reflect those of The Nigerian Voice. The Nigerian Voice will not be responsible or liable for any inaccurate or incorrect statements contained in this article."
Articles by thewillnigeria.com