NGO wants government, individuals to support blind people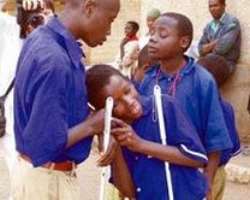 A Non Governmental Organisation, Anglo-Nigerian Welfare Association for the Blind (ANWAB) in Kaduna on Tuesday, urged the government and wealthy Nigerians to support the physically challenged persons in the society.
Ogie Eboigbe, the Chairperson of the organisation, made the appeal at the opening of a three-day train-the-trainer workshop in Kaduna.
Mr. Eboigbe said the organisation had since its inception in Nigeria in 1996, executed various projects aimed at uplifting the standard of living of the blind.
He said its major project titled "Braille Education Project," which located blind students in the 36 state and Abuja in their various schools, was sponsored by the British National Lottery.
And that the Organisation was able to use the data collected throughout the country to transcribe into Braille, hundred of volume of books, which were supplied to the blind in the country.
The chairperson further said that the organisation also received funding support from the Ford Foundation to set up an Internet Cafe for the blind, the first of its kind in Nigeria and also have a full service library with books donated by institutions in the UK and U.S
Mr. Eboigbe said the organisation planned to provide training in daily living skills as an important aspects of its programme, especially for women and girls.
"There is also training Orientation and Mobility, Independent Living, Typing, local production of guides and styluses for writing and provision of recreation activities for the blind persons," he said.
He, therefore, urged the government, transport operators and other relevant bodies to support the organisation's activities to enable it achieve its mission.
In his remarks, Gov. Namadi Sambo of Kaduna State, represented by the Commissioner for Women and Social Welfare, Mariam Madami, said the state government had introduced various programmes aimed at improving the lives of the physically challenged persons in the state.
Mrs Madami recalled that the government recently inaugurated a board to assist it in carrying out its projects and programmes aimed at improving the lives of the physically challenged.
"We have also distributed walking sticks to the blind as parts of our programmes to assist their mobility," he said.
ANWAB, a non-profit and charitable organisation, was founded in the UK in 1994 and began its Nigerian activities in 1996.
It sources funds for its various projects from within and outside the country, from corporate organisations, individuals and other charities.
Source: 234NEXT.COM
|
Article source