NGO turns motor park boy's life around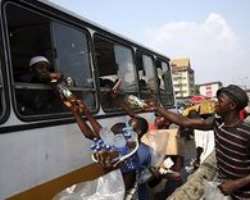 Written by Abubakar Yakubu
The African Women Initiative Against Violence and Poverty (AWIAVIP) yesterday disclosed that their programme at Jabi Motor Park has changed the life of a motor park boy, who turned serious by passing his JAMB examination and gaining admission into a Nigeria university to study law.
President/Founder of the non-governmental organisation, Princess Glory Okeke-Iroagalachi, who disclosed this during the launching of the 2009 National Motor Park Safety/Reformatory Education and Empowerment Project in Abuja, said Master Julius Chika Onele from Ebonyi State sat for JAMB with registration number 9206282580 at Abonnema centre and gained admission to study law in Ebonyi State University.
"We feel very proud to present Julius to other motor park workers as a role model worthy of emulation," the founder stated.
She described the motor park road safety education project as a scheme designed to teach school drop-outs, illiterate youths that are among the drivers, the rudiments of education, adding that the NGO uses education as a channel to reach motor park workers.
"Our pilot programme lasted for five months and at the end, 39 youths from the park acquired basic literacy skills to empower them in the various vocations: fabrication, shoemaking, cloth making, catering and driving.
"The National Directorate of Employment has worked out modalities to train an additional 27 of the motor park workers on various skills, while SMEDAN has promised to empower them on their graduation," the AWIAVIP founder disclosed.
She thanked the management of Peace Micro-Finance Bank for given soft loans to 30 youths and women to engage in business venture, adding that the entire loan was paid back after three months.
Princess Iroagalachi commended the FRSC for providing both financial and logistic support for the expansion of the group's training centres to two rather than one.
In his speech, the Chairman of the event, Ferdinan Agu, said when he was introduced to the project, he believed in it, adding that if in four years time, somebody like Julius (the motor park boy) can become a lawyer the society will be safe if efforts are geared towards changing the lifestyles of people in the park.
"This is the time that the country is talking of rebranding and it is left for every one of us to let it happen by rebranding yourselves because every good step you make, you can count on us," the chairman told the motor park workers.
The representative of the Minister of Youth Development, Miss Amonia Standfast, said the ministry is solidly behind AWIAVIP for encouraging Julius to continue his education and thanked the NGO's founder for having faith in the workers in motor parks.
Source: Daily Trust
|
Article source