TONTO DIKE AND HALIMA ABUBAKAR END 2-YEAR RIFT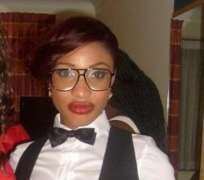 Tonto Dike and Halima Abubakar are two talented actresses in Nollywood.
The two of them were best of friends until 2 years ago when they fell apart,and won't see eye to eye again.
As a matter of fact,they would do anything to avoid each other and crossing each other's path.It was that bad.
However, before then,they stayed together in the same apartment,a development that fuelled speculations that they were lesbian partners and that they were just staying together under the pretence of being professional colleagues,while actually engaging in lesbianism.
During those good times,it was widely rumoured that Halima was also using Tonto's cars all over town.All those and many more about their friendship called for suspicion, and subsequently made headlines at the time.
However, it was to the surprise of many who knew how close Tonto and Halima were 2 years after they fell apart,avoiding each other like a leper.
No one was able to point a finger to what could have led to the fight between them any way.They both kept mute all through but the evidence of the bad blood between these two actresses got to the extent that they didn't want to be featured in the same movie.If any of them was cast in a film,the other would avoid being part of the same movie,no matter the money offered or who the producer or director was.
This was surprising to many of their collegues and even their fans and admirers because they did practically everything together back then.They attended events together,always in company of each other and all that.
But the lastest news about the cat and mouse relationship between Kogi State-born Halima and Rivers State born Tonto is that they have ended their 2 year rift and this is authentic.
The "No More War" scenario played itself out at the recent movie location of a new movie "Queen Sheba".
The movie features the likes of Halima,Tonto,Oge Okoye,Jibola Dabo and a host of others.
At the location Halima reportedly went to where Tonto was and warmly embraced and even exchanged some pleasantries with her.This we gathered took many who witnessed it by surprise,what she did.
Halima we gathered also twitted on a social network,letting the world know that she is on set with stars including Poko,Tonto's nick name.That she wouldn't have mentioned when they were not in talking terms.
That also generated a lot of stories,as many of her fans were hailing her and praying for her.

HALIMA ABUBAKAR
Nollywood At Large