What Cossy Orjiakor is Doing to compete with Abuja Big Girls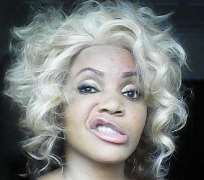 It is no longer news that Nollywood actress, Cossy Orjiakor, has since relocated from Lagos state to Abuja, which according to her was because of the bad traffic and road in Lagos.
Well, she is not finding it difficult to settle in her new aboard as she is already familiar with the environment but in joining the big Abuja babes, she had to rebrand.
The actress just wants to look different aside just being noticed with her massive oranges and as such, she decided to repaint her convertible car from black to pink colour which will help stand her out from others.
It's time the federal capital territory get to know that they have gotten a new visitor in town and maybe she could get some new deals over there.