Wike's Moves To Join APC Uncovered, Condemned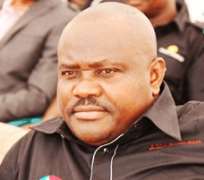 Subterranean moves by Mr. Ezebuwon Nyesom Wike, the governorship candidate of the Peoples Democratic Party, PDP, at the April 11 governorship election in Rivers State to jump ship and join All Progressives Congress, APC, have been uncovered and strongly condemned.
Wike, who was declared winner of the governorship election by the Independent National Electoral Commission, INEC, received knocks for the moves which aim, it was uncovered, is to obtain the cover of APC and avoid a judicial dethronement.
Wike's latest move comes as no surprise to those who know his antecedents. Having back stabbed his mentors like former Senator John Mbata in the past and more recently Governor Chibuike Amaechi, he would only be living true to the unreliable ally that he has grown to be.
"Wike's history is replete with sabotage and dual personality often unstable among peers. So, we are not surprised at his latest moves to dump PDP to join APC.. Such a move portrays him as unstable in relationship having at several instances, bitten the finger that fed him.
.....He thinks that by hiding under the canopy of APC membership, elders of the APC will prevail on Dr. Dakuku Adol Peterside, the governorship candidate of the party at the April 11 election, to abandon his quest for justice", Mr. Chris Finebone, APC Rivers State Publicity Secretary said.
Giving insight into the plan, Finebone explained that Wike, as soon as he is received into the APC fold, will woo APC elders and leaders to prevail on Dr. Peterside to drop his quest for justice before the Election Petition Tribunal.
"Through this, Wike would have hoodwinked APC elders and leaders into prevailing on Dr. Peterside to withdraw his petition from the Tribunal. In short, Wike seeks to hide under the cloak of party man to dodge standing before justice to explain how he garnered the fictitious figures he claimed to have secured at the April governorship poll. Aware that Peterside is a true and loyal party man, unlike what he is; Wike will propound the hypothesis of "this-is-a-party matter" to cajole both Peterside and the leadership. Unfortunately, Wike has already shot himself in the foot with the barbaric manner in which he obtained the fraudulent victory he is currently parading."
According to Mr. Finebone: "In any case, the APC has placed restrictions on fleeing PDP members whose only reason for jumping ship is because the PDP has lost the elections. Mr. Nyesom Wike is a liability rather than asset. It would be best he remains in the PDP, stand before Justice at the Tribunal and explain his role in the rape on democracy in Rivers State last April 11. His late night moves to join APC is only a ploy to protect the stolen mandate in his pockets."
Chris Finebone,
Publicity Secretary,
Wednesday, April 29, 2015
Nkeiruka | 4/30/2015 7:00:00 PM he has always shown that he is a backstabber, who can sell his soul just to get what he want. i whole-hearted sympathise with the nigerian youths who let themselves to be used by him to achieve his evil ambitions. And also the party which under its umbrella he did all this and still spat at.
bayu | 4/30/2015 7:02:00 PM Nawaa ooo
APC liars | 4/30/2015 9:21:00 PM The worst thing that happened to Nigeria is APC.our nation is now full of lies. Woke of course can never join u. U are all liars.