PDP leaders conspired with APC against Jonathan - Senator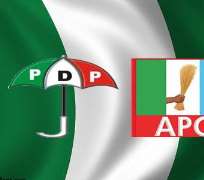 The Peoples Democratic Party (PDP) member representing Nasarawa South in the Senate, Senator Suleiman Adoke,  on Wednesday alleged that ranking members of the PDP at the federal and state levels actively connived with the All Progressives Congress (APC) to defeat President Jonathan.
Adoke who spoke with journalists in Abuja, described the development as an institutional conspiracy, and that the high level of betrayal suffered by Jonathan was unprecedented.
He said all those who contested election on the ticket of PDP, on March 28, suffered the same fate with Jonathan.
He explained that everybody including non politicians were involved in the movement to get the PDP out of power at all cost,  hence no one complained about the issue of faulty card readers and other flaws recorded on the day of the election.
Adoke said, 'I maintain that there is a complete institutional conspiracy to shift the government from the PDP to the APC at all cost. Virtually everybody participated in this movement across the political parties.
'Infact ranking PDP stalwarts participated in this grand design to effect a change in governance. Even when the ordinary people knew the election was not fair,  they looked the other way because everybody was united to make sure that PDP was out of government.
'That can happen in the life of any country where people had enough of a particular ruling party and desperately needed a change without minding how the change would come.
'In my own opinion,  this is what happened in Nigeria. We just pray that it is for good.'
Adoke claimed that he was winning his election up to the midnight of Sunday, March 29, as  most of the result of the polling units had been received and only waiting for the announcement which did not come until Monday evening.
He said the INEC  Returning Officer merely announced the result at the collation centre and claimed that someone else was the winner.
'Let me say categorically that I lost the election due to the active collaboration of the PDP agents, that is what made it very sad.
'My best friends, who I appointed as my agent at the collation centres all sold out. Today they can not look at me in the face, some of them had even run away.  It was a massive conspiracy to get me out of office.
'One of my friends is riding the car that I bought for my mother. His case is that of a betrayal that I will never forget in my life.The degree of conspiracy that I encountered was such that cannot adequately addressed by any court of law.'
The senator said his initial response was to leave everything to God but that a lot of people who voted for him, said the mandate was not his own but their own and that he had the duty to pursue their mandate for them.
He said, 'It is an institutional conspiracy but we are trusting that God who is above all institution,  to vindicate us.
Belinda | 4/30/2015 4:30:00 AM Jonathan. may be abandoned by people who claimed to be his friends,who vowed to stand by him through thick or thin,But just like most children in this world they run where the most money is.But that's ok Jonathan you have the only friend that truly counts and that is GOD ALMIGHTY THE SAME TODAY AND TOMORROW because he never changes and He will never leave you or Forsake you.