I Have Tried Says Yar'adua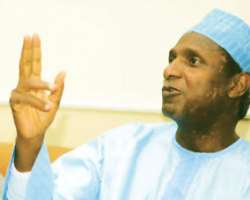 By Prince Charles Dickson
It was with joy and the typical journalist's anxiety that I wanted in the reception room, it was the third of such large rooms that I had passed. My mission: an interview with Nigeria's president, venue, a palatial lodge in Cairo, I was told he would be with me soon, having just finished with his doctors, date was 10th August 2009.
I kept going through my question's over and over again, they seemed like hundred, also let me say that it had taken two years for this interview to sail through, I was going to thread softly, although I consoled myself don't worry, he is Yar'adua not Obasanjo.
With all these and more thoughts in my head, he walked in, closely followed by a retinue of guards, and boy let me say, its no gainsaying we are all sick of one thing or the other, from headache, diabetes, stealing fever, bank upset, ASUU cancer, PHCN diahorea, Sanusi cough, the list is endless but 'Lord' the President looked pale.
Before I could gather myself we hit the road, I stretched out my hand which he gladly took, I am sure, I may not wash that hand in a long while, reasons, I will tell later.
Mr. President: Yaya, Charlie, you followed me all the way to Egypt
BNP: I had to, it was the best bet, seeing that you will be relaxed especially as you will adhere to the doctor's request that you rest. I knew I could get the best from you.
Mr. President: (Smiles), so let us get cracking, (he coughs slightly)
BNP: Your Excellency, you look as fit as fiddle (I lied and I am sure he knew I lied). My first question sir is from an unusual angle. Before you left for this current medical check there was a brush between you and the Lagos State government, over council development areas, many did not approve of the FG's stand, infact many say you are jealous of the governor whom many say is doing well or is it a PDP strategy?
Mr. President: (Smiles wryly) Let me take it from the point of jealousy. If a governor is working for his people why that should elicit jealousy is strange. We forget that in the first place he was elected to do so. It is only in Nigeria that we praise our leaders when they do what they are elected to do, and in doing so, I also do not blame us, in chemistry we call it a name…
However far from it, I have no problem with Fashola, neither the PDP, under whose platform by Allah's grace I am President of Nigeria. In Lagos state, the issue is about doing the right thing correctly.
BNP: Sir, to what many has referred to as Sanusi's banking tsunami, many say, that it's all part of a Northern agenda, others also believe it is too early to shout victory. Nigerians believe that government is not being honest especially the regulatory agencies.
To refresh your mind sir, only recently a DG of the Nigerian Stock Exchange attributed our own stock fall to the internet, watching cable television like CNN, BBC and Fox TV. Before this Nigerians were given assurances that all is well, apparently events today show that all is not well.
Mr. President: I am sad, I am very sad because each time I wake up and think of the typical Nigerian it hurts me. When my government takes decisions in the right direction and we know that toes will be stepped on. We hear it is a Northern agenda; I am favouring this group or that group. I will put it subtly when a bank CEO steals money, behaves recklessly. He is removed and government injects funds into the bank. We forget that the Nigerians who are depositors and whose monies are at risk are from both North and South.
The same bank CEO institutes a court process and runs away and we are complaining. I am tired.
Nigerians should be fair in their criticism, haba mutu mi; it's not healthy for us as a nation. Technically there is nothing wrong in a loan but when such loans are killing the system, then everything is wrong with it.
BNP: Sir, we shall come back to that, you were in far away brazil, when a group christened Boko Haram struck, their leader was killed, till date no one has been brought to book, no one held liable or accountable for sponsoring such terror;
Secondly many have blamed the role the security operatives played in the whole episode and nothing has been done, many believe nothing will be done. Sir what is government doing to forestall future occurrence and punish those responsible.
Mr. President: I am honestly trying to comprehend what took place in those few days across the four states in the North. And I must correct also the impression that we are not doing anything. We are not given to making noise.
It was a senseless killing and we tried to avoid it being colored and escalating. My going to Brazil was necessary, had to discuss the power issue with President Luiz Inácio da Silva. The fact is that those responsible will be brought to book and before I left I gave instructions that a security inquest be instituted.
Nigerians need to know that as a government we are trying in various sectors, security of lives and property being one of such area and that explains why we had to take the amnesty route in solving the Niger Delta palaver.
BNP: Your Excellency this brings me to a question that I put for later, infact two, the first being Nigeria's electricity problem and the Niger Delta question. My first question sir, is are you aware that it has become so bad that reprieve is in the offing for the nation's near- comatose energy sector, as the authorities in Ghana recently said that arrangements have been concluded to supply electricity to Nigeria.
With the Ghanaian Minister of Energy, Dr. Joe Oteng-Adjei, quoted as saying that arrangements are now in place by Ghana to be "a major exporter" of electricity to Nigeria.
Sir one does not need an economist to know that supply of adequate, reliable and economically priced power supply is vital for the socio-economic development of every nation and that it has been observed that the GDP growth rate of a nation has direct relationship with the growth in the per capita electricity consumption.
You declared a state of emergency on the power sector, and you have discussed with the Germans, Swedish, Norwegians, and recently Brazilians still Nigerians are yet to feel an impact, infact it is a continuous drop in megawatts generated and recently the House of Rep Power Probe crumbled.
Mr. President: (Cuts in) Young man, I do not blame you or Nigerians, let me start from the bottom, the entire House of Representatives probe was a charade, but I allowed it and watched, at least from it we are able to see some of the rot and reasons we are where we are.
Even the nation's corruption watchdog not only made some arrests but are also presently prosecuting I am sure. Nigeria is not Ghana; we forget how big we are, the process, and the system is different. Yet this government is doing its best, I am fighting a cabal, and I am sure I will. I will fulfill on my promise of 6000MGW.
Besides we should be happy that Ghana is willing to help and save us the agony of importing generators. We are a difficult people.
Nigerians should wait till I fail before they conclude. I am aware that light has improved in many places in the country (That was Mr. President telling a lie).
BNP: Amnesty to the militants in Niger Delta, sir, many say that it is not the solution, infact that the FG is only massaging the ringworm rather than treat it. Besides the question people are asking is why treat militants with kids glove, while others are saying of what use is amnesty that is exclusive of MEND. Others infact do not understand while government should dine with militants.
And just an addendum to that sir, at home presently the spate of kidnapping has increased, and the culprits have diversified so to say and no one is safe?
Mr. President: (Frowns) Till date we have had countless meetings, committees, panels and reports. The point here is that this government is doing something; we are offering an olive branch to the militants.
(At this point yours sincerely had to be cautioned)
BNP: Your relationship with Obasanjo
Mr. President: Cordial… (Smiling) he is not my wife.
BNP: Many say your wife Hajiya is in control, and even bends a lot of decisions taken by you?
Mr. President: (Apparently irritated) If it was different, same media and people will conjure something up. How is she in control, is she the President… (At this point Turai walks in). Please let us move ahead…
BNP: Sir, this question is not personal but as a result of information in public domain, what is the true position regarding you, El-rufai and Ribadu. In addition in her recent visit Secretary of State Hilary Clinton stated that since Ribadu's removal there has been a lack of bite to the anti-corruption crusade?
(At this point Hajia Turai chiped in)
First Lady: What does the women knows, she talk nonsense and rubbishes and as far as those crooks, ribadu and rufai, let them come back if they are not fear me.
(Mr. President apparently furious eyed the first lady and she hissed and walked out)
Mr. President: Charlie, my apologies, skip that question, and I am sorry I am slightly tired, so round up. Make the next question, your last please.
BNP: You Excellency, you have an academic background, so also you VP, but ASUU has been on strike for three months and yet the FG is said to be stalling negotiations, what is the way forward?
Mr. President: Those lecturers are not serious, I even hear that they threatened to publish the names f politicians whose kids are schooling abroad, I asked Egwu to comply the list of ASUU members whose kids are abroad too.
This government is committed to solving the impasse but we need patience from the teachers.
NOTE
There were several questions I would have loved to ask Mr. President but I had been earlier warned that as much as I was free to ask him anything, I should be careful with my 'anything'. I had wanted to ask Mr. President how he felt, I mean how sick is he, if he could take up the challenge of that squash game he promised reporters...If he was going to contest 2011, or was his party going to prop up Turai as candidate?
I wanted to know if it was truly his son that was on Saharareporters, I wanted to ask him why he removed Baba Gana, what he thought of his nickname Baba Go-Slow. Many say he is vindictive behind the veil so I avoided those questions.
I left out the oil sector, deregulation and promulgation. I was less perturbed about labour because we have none at the moment. I was not bothered about the politics of perm sec tenures because it will not put food on the table of the ordinary Nigerians.
As I reflected on this chance interview with President Umaru Yar'adua, I was taken into a room and given a big bag, I opened it and it contained wades of dollar bills. I asked for what…before I could get an answer I woke up sweating; it was all a dream, a dream, a mere dream but very revealing. Our President said we should give him an opportunity to fail before we criticize him so Nigerians, let's march on to doom.
It would be safe to say we are waiting to fail…or on the road to failure.
|
Article source