Saudi Government Agrees To Recall Deported Nigerian Pilgrims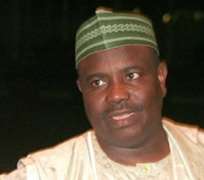 SAN FRANCISCO, October 08, (THEWILL) - Reprieve has come the way of deported Nigerian female pilgrims to this year's hajj as the Saudi authorities have agreed to allow deported pilgrims that have valid visas into the country to perform the Muslim ritual, THEWILL can report.
Speaker of the House Representatives who led the Presidential committee to Saudi Arabia made the disclosure today at the presidential wing of the Nnamdi Azikwe International Airport.
Those in the delegation included the Emir of Zuru, Alhaji Sani Sami, Alhaji Aminu Dantata, Professor Shehu Galadanchi, Chairman of Nigerian Hajj Commission (NAHCON), Alhaji Mohammed Bello, and the Minister of State for Foreign Affairs II, Dr. Nurudeen Mohammed.
According to the Speaker, the Saudi government is also considering Nigeria's request of extending the airlifting deadline to accommodate the deported pilgrims.
Tambuwal who expressed happiness at the outcome of the meeting also disclosed that the issue of male companion for female pilgrim was also settled as the Nigerian delegation made it known that the issue of the companion (Muharam) is open to different interpretations from the four jurisprudences in Islam.
He said: "Our interface with the Saudi authorities has been very successful because we had serious and deep engagement. The first good news is that all of those pilgrims who have secured valid visa are being taken back.
"The understanding so far with them is that they will be allowed entry into Saudi Arabia".
According to Tambuwal, the meeting was able to reinforce the long standing relationships between the two countries, adding that "Assurances have been given to that effect.
"I believe that also, if need be we have requested for them to extend the time of airlift and also the time of issuance of visa to our pilgrims".
On the issue of male companion (Muharram) for female pilgrims, especially those under 40 years of age, he said, "Of course under the Islamic jurisprudence, Muharram is a requirement but there are different categories of Muharams, as different schools of Islamic jurisprudence, the Maliki, the Shafi'i, the Hambali and the Hanafi.
"These are the four pronounced schools and they have their different definition of Muharam and we have passed across to them that message and we believe that they understand and reason with us that in Nigeria, the predominant Islamic school of jurisprudence is Maliki school of thought, which allows for a group Muharram".